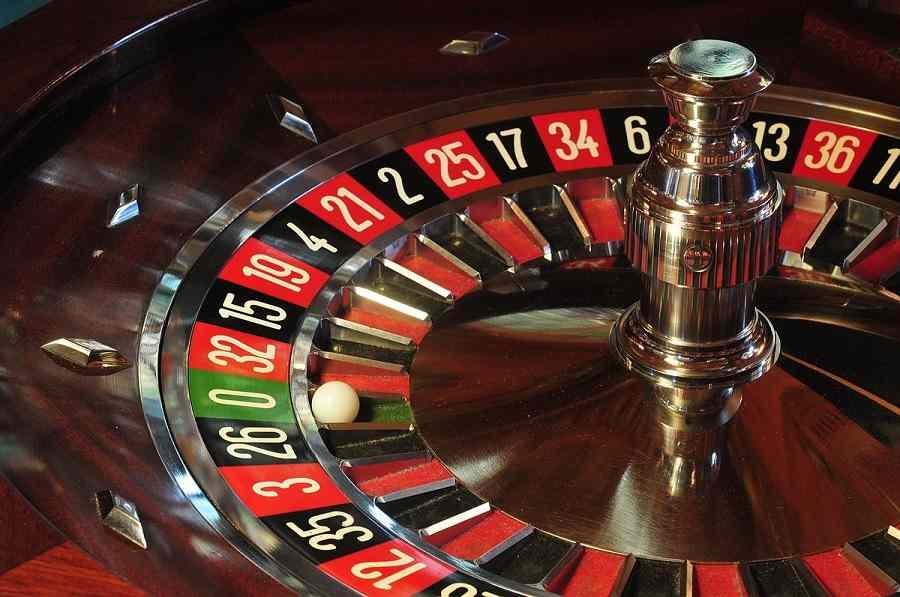 Roulette is one of the oldest casino games. It has continuously offered many casino fans excitement, mystery, and enjoyment since the 17th century.
This game is incredibly popular around the globe. Why? That's because it has simple rules that are easy to understand.
However, if you are a serious casino gambler, roulette can still offer you a surprising level of depth to suit your needs. If you get straight into the game without learning the basics and how to play roulette, you'll more likely not win your bets.
That's not what you want, right? The Gambling King will give you detailed instructions and everything you need to know about this thrilling game.
What Is A Roulette?
There are various definitions for roulette:
According to Merriam Webster, roulette is a gambling game where players predict and place bets on which part of the revolving wheel the ball will land. It's also something that involves a high degree of chance and unpredictability.
The Collins Dictionary defines roulette as a gambling game where a small ball gets dropped onto a rotating wheel with 37 or 38 numbered slots or places where it will land and rest. The gamblers bet on which slot the ball will rest in when the wheel stops rotating.
Dictionary.com also defines roulette as a gambling game played at a table numbered 1-36, one or two zeros, and a few other parts. So the player has plenty of betting opportunities.
The table's center has a rotating dish-like wheel into which a small ball is thrown and rotates to rest finally in any of the 37 or 38 slots.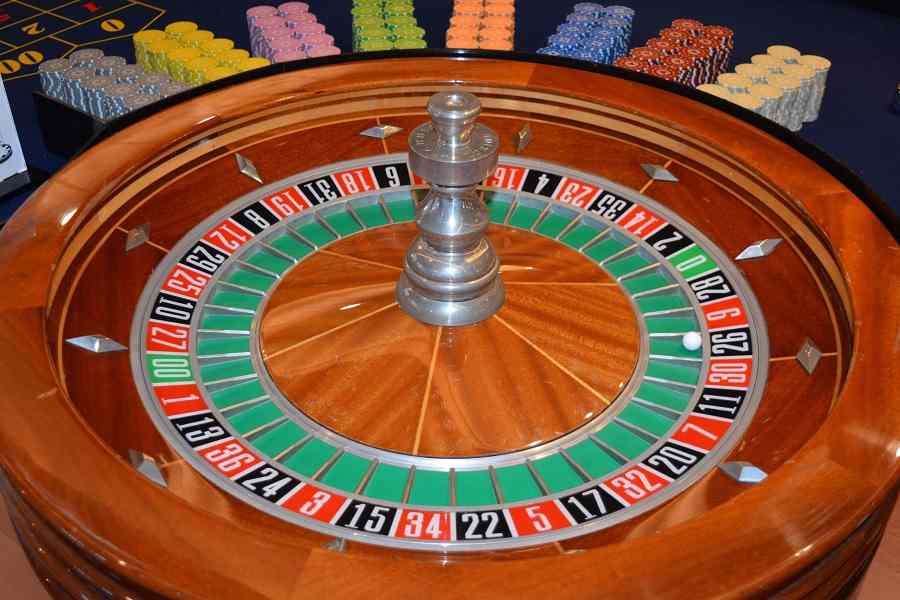 Such a slot shows the winning number and its features as red or black, odd or even, and between 1 and 18, or between 19 and 36.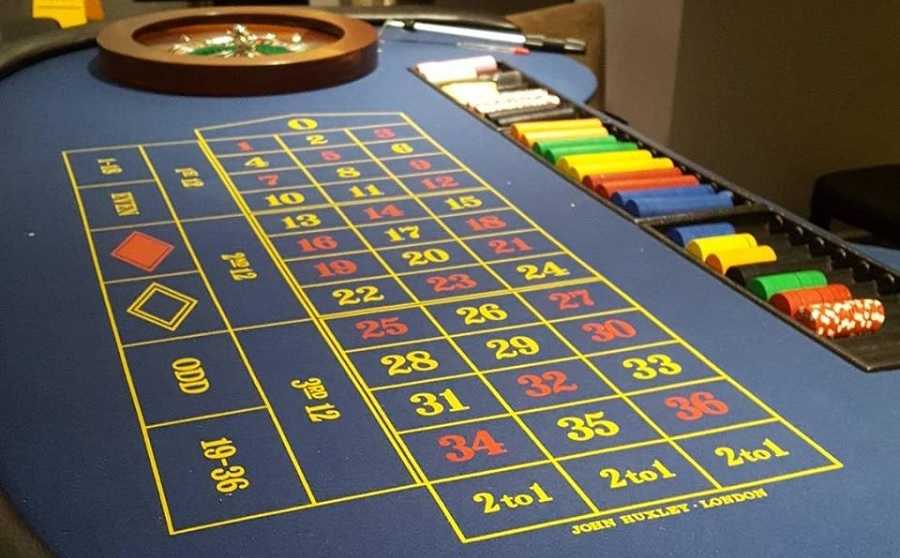 The Basics Of Roulette
Here are the basics you should know before you start playing roulette:
Understand The Roulette Equipment
In French, roulette means a little wheel. This wheel has 0 and 36 numbers. You'll find some American tables having a 00 slot also. A croupier throws a small white ball onto the spinning wheel and will finally settle on one of the numbers.
Players place their bets on the table predicting which slot the ball will possibly rest in. The table also has numbers and several other options such as:
Odd;
Even;
Red;
Black;
1st 12;
2nd 12;
3rd 12;
1 to 18;
19 to 36.
Roulette Inside Bets
In this gambling game, you need to anticipate the type or number of slot the small ball will land in. There are various bets that you can set to make your predictions. Inside bets refer to those placed on particular numbers, which often have higher paying odds.
These types of bets include:
Straight up: bet placed on one number which pays 35:1.
Split bets: betting on two numbers that pay 17:1.
Street bets: a bet placed on three numbers and pays 11:1. A single chip can serve as a bet on three numbers. You can place it at the top or bottom of any column of three numbers (street) on the table map.
Corner bets: involves placing bets on four numbers and pays 8:1. Here, the chip sits where the four numbers intersect.
Six-line bets: Bets placed on 6 numbers pays 5-1. The chip here lies at the edge of the two adjacent streets.
American roulette has a row 00 bet that covers numbers 0 and 00 paying 17:1 and the 5 number bet that covers 0, 00, 1, 2, 3 and pays 6:1.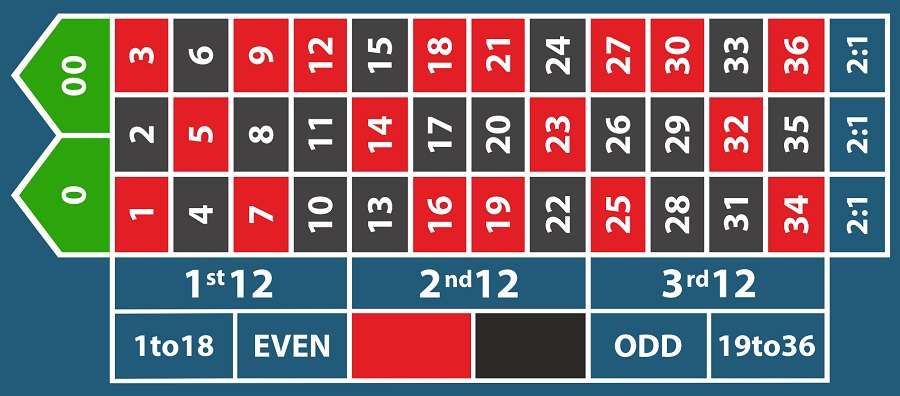 Roulette Outside Bets
Outside bets don't involve particular numbers. Considering the name outside, these bets get placed on the outer side of the number map. They include:
Even or odd bets that pay 1:1;
Color bets (red or black) and pay 1:1;
Column bets placed on 12 numbers and pay 2:1;
Low or high bets that pay 1:1;
Dozen bets involve the 1st 12, 2nd 12, 3rd 12 and pay 2:1.
Determine Your Odds
Each roulette table has an edge. All bets at the American or French wheels get paid at odds that might be true only if the 36 numbers are present on the wheel. The French wheel offers odds from 0 and the American 00.
Several theories exist to help you know how to boost your odds. Unfortunately, they don't work.
However, a few varieties that can change how the favor lies exist:
American Tables
The 00 slot boosts the casino's advantage to greater levels. A roulette table with a single 0 offers the casino a 2.7% advantage. As for a roulette table with two zeros, the casino enjoys an advantage of 5.26%.
French Tables
There are a few French tables that use rules which help players win. The "En Prison" and "La Partage" rules often apply to outside bets such as red or black, odd or even, and high or low. Besides that, these rules may apply in situations when the ball finally gets in the 0 slot.
The two are similar because, as a player, you will lose only half of their bets. However, the "La Partage" rule prohibits you from leaving your bets on the table for the next spin.
You can collect the rest half of your bet in the "En Prison" rule if you lose. You may also choose to leave half of your bet on the table for another spin with the "La Partage" rule.
Types Of Roulette
If you're a novice, a roulette table can seem quite daunting. That's because there are lots of options to bet on. There are three roulette table layouts you can find in a casino. These include American, French and European roulette.
American Roulette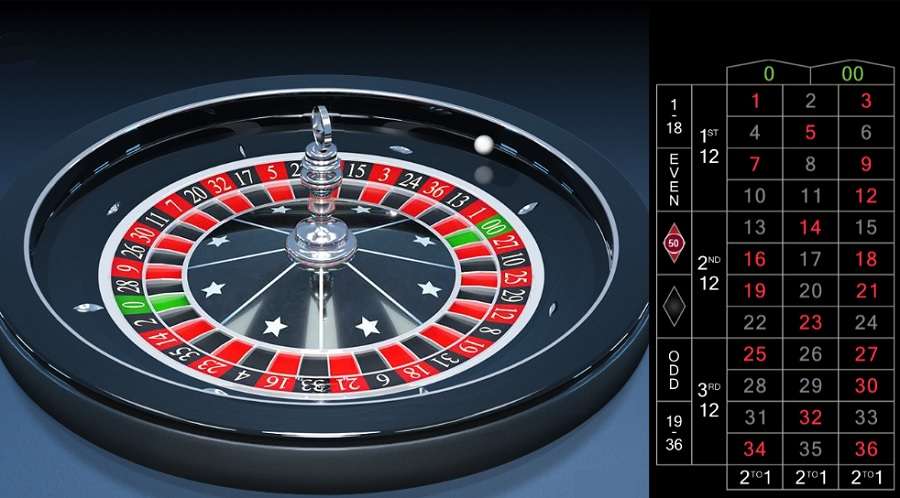 Most Europeans often claim that the Americans love doing their things bigger and in the best way possible. That's true in roulette, where they have included a second green zero portion with two zeros. Although this roulette table is bigger, it's not necessarily perfect.
As for most players' points of view, American roulette offers the worse odds. You may still have 36 numbers to pick from, but the two zero portions are waiting for your selection. That means that the odds of getting a number are 37:1, not 35:1, hence a disadvantage.
European Roulette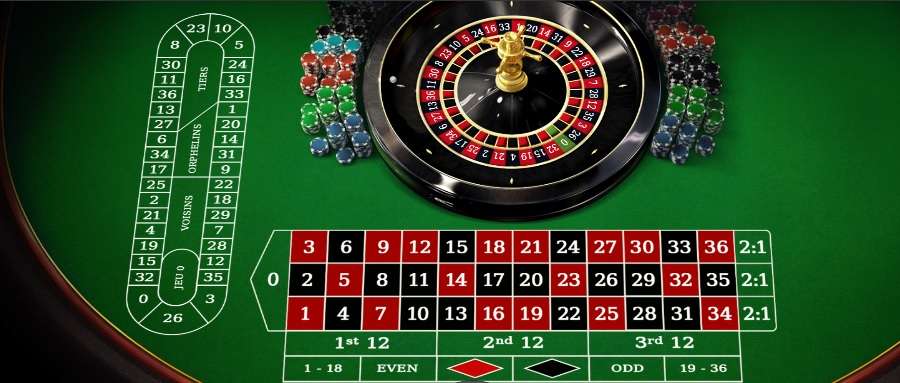 European roulette is probably the most popular roulette version available in both online and land based casinos. It provides 36 regular numbers that are split into columns of 12. On top of it, there's a single green 0.
While the odds for hitting one of your chosen numbers is 35:1, the odds increase to 36:1 after adding the green zero portion. That's because the total number of segments is 37, giving the casino its house edge.
It is possible to put a chip on the 0 segment and back it at 35:1. However, the main thing is, if 0 comes in, all other gamblers who bet on other numbers, odd or even, red or black, will lose their money.
French Roulette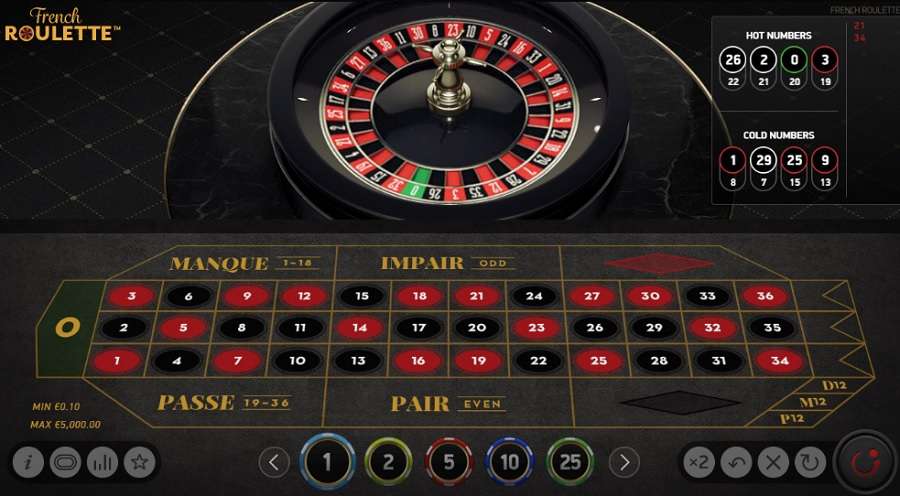 The French Roulette favors the players. You'll find it with a green zero portion like that in European roulette. But it is advantageous to players because if the green zero portion comes in, they won't necessarily lose their 50:50 bets.
Instead, it all depends on the local rule governing the play. The bets may count for "La Partage", meaning that you will receive half of your losing 50:50 bet chips back in case the zero comes in.
Alternatively, the "En Prison" rule may come into play where all the chips get locked in place on odd or even red or black for your next spin. If you win it, you will have your chips back. And if you lose it, you'll have to wait for another day.
How To Place Roulette Bets?
Placing roulette bets come in two groups that each gambler must know when setting up their table bets. They also determine your final roulette payout and include the inside and outside bets.
The inside and outside mainly refer to a section of the roulette board on which players stake their roulette bets. Bets placed on the numbers are called inside, while those placed on other parts of the board are the outside bets.


Types Of Roulette Inside Bets
Straight: bet placed on a single number;
Split: bet placed on 2 numbers;
Trio: bet placed on 0 and two adjacent numbers;
Corner: bet placed on 4 numbers within a common adjacent square;
Street: bet placed on 3 numbers on the same vertical line;
Double street: bet placed on two adjacent vertical lines, also called a six line;
Special cases: for European roulette this bet is placed on the numbers 0-1-2-3 all on a single bet, for American roulette this bet is placed on 00-0-1-2-3 all on a single bet.
Types Of Roulette Outside Bets
Low or high: bet placed on the numbers 1 to 18 which is called the low bet or on the numbers 19 to 36 which is called the high bet;
Red or black: bet placed on all numbers that are either red or black;
Even or odd: bet placed on all numbers that are either even or odd;
Columns: bet placed on one of the three 12 number columns.
How To Play Roulette For Real Money?
Playing roulette is always fun, and it can steer up things if you can win some real cash. After all, the main motive for a gambler is to beat the odds and risks to win money on the bets placed.
Once you know the basic rules for playing this game, you may want to try your luck playing roulette for real money.
So the first thing will be to choose a suitable, fully licensed and trusted casino, whether online or land based.
This ensures that you don't fall victim to scams or prevent losing your money if the casino gets banished by the government.
You'll need to do a lot of research online and examine the reviews left by other players about that casino site you have in mind.
The following steps will teach you how to play roulette for real money:
Find A Table
Every roulette table describes the minimum and maximum bets allowed. For instance, it may read roulette $10 minimum inside bets, $10 minimum outside bets. $100 maximum inside, $1000 maximum outside bets. Inside bets often have lower maximums due to the higher payoffs provided.
Each roulette table has a board highlighting the last numbers small ball rested on. Here, you might get tempted to conclude that the odds of a number reoccurring are very low. That's not true. When the wheel spins, the odds of every number to win remain the same. The reason is that you use the ball and the same wheel all the time.
Watch The Process
Roulette is a game of chance. So there's no trick to roulette. It is purely and simply luck. Every number on the table has the same probability of winning on every spin.
At times, the dealer may release the ball at precisely the same speed and angle every time in a specific session. This means that the chances of the ball resting upon the same segment of the wheel repeatedly are higher. They let the same number win whenever a spin occurs.
Besides, the wheel may go off-killer. The good thing is that most casinos are excellent at spotting this. So you won't know if the wheel is unbalanced if you don't watch and monitor thousands of spins.
Give The Dealer Your Chips
The dealer can be termed as a croupier in France or Europe. Every player receives specific colored casino chips in roulette to easily differentiate between the bettors. Besides, the chips come in different denominations.
Once you give the dealer your chips, they'll ask you to pick a preferred denomination for your chips. After making a selection, the dealer will put the chip on the rail with a marker atop to show the value of your colored chips.
Roulette chips are valueless anywhere else except at the roulette wheel. Put the remaining roulette chips on the table when you want to leave the table. Then let the dealer know that you would like to cash out. They will give you the normal casino chips if that's the case.
Understand The Roulette Playing Procedure
The dealer throws a small ball onto the spinning wheel after all players have placed their bets. The dealer puts a marker on the winning chip or number when the ball stops. The dealer will then clear the losing bets and pay the winners.
👑 Gambling King's Best Online Casinos With Roulette
How To Play Roulette At A Land Based Casino?
Playing roulette at a land based casino is similar to playing at an online casino. That's especially if you are playing the live dealer roulette.
The difference is that call bets are more prominent, which get announced to the dealer not placed. These are often accepted as higher-stakes tables and typically less common online.
How To Play Roulette At An Online Casino?
Choose a trusted and licensed online casino site to play at;
Register for an account;
Deposit real money;
Find a roulette table and join;
Select roulette wheel numbers;
Place your bets and wait for the live dealer to make a spin and announce the winners.
Roulette Strategies
Various roulette strategies will help you increase your chances of winning your bets. They include:
Martingale system: involves doubling your bet each time you lose;
Labouchere system: it increases your stake after losing a bet;
Reverse Labouchere system: increases your stakes after a winning bet;
Andrucci system: reasons that each number will get covered over time;
D'Alembert system: focuses on even money bets. Each win reduces the bet amount by a coin and vice versa;
Contra D'Alembert system: involves betting on 1:1 or even chance;
Paroli system: you double the bet every time you win a bet.
How To Play Roulette And Win?
First, practice playing at a free table before playing roulette for real money;
Check at which number the ball starts to spin around the wheel and where it will land, sometimes it might land in the same area, giving you a big advantage to win;
Place outside bets for a better chance of winning;
Place couple of inside bets to increase the payout amount;
Play European roulette instead of American roulette because the house advantage is smaller;
Check the history of winning numbers and which number won the most. Place your bet on 5 of the most winning numbers.
How To Become A Roulette Dealer?
Becoming a dealer or croupier is easy. You must first acquire a roulette dealer license.
Some casinos provide in-house training. However, it is advisable to attend a course that provides casino dealer and croupier training.
Once you finish your training and obtain the license, you can start to apply for roulette dealer jobs. Good luck!
---
Frequently Asked Questions
Which Are The Basics Of Roulette?

Which Types Of Roulette Exist?

How To Place Roulette Bets?

Which Are The Types Of Inside Bets For Roulette?

Which Are The Types Of Outside Bets For Roulette?

How To Play Roulette For Real Money?

How To Play Roulette At A Land Based Casino?

How To Play Roulette At An Online Casino?

Which Are The Best Roulette Strategie?

How To Play Roulette And Win?

How To Become A Roulette Dealer?
---