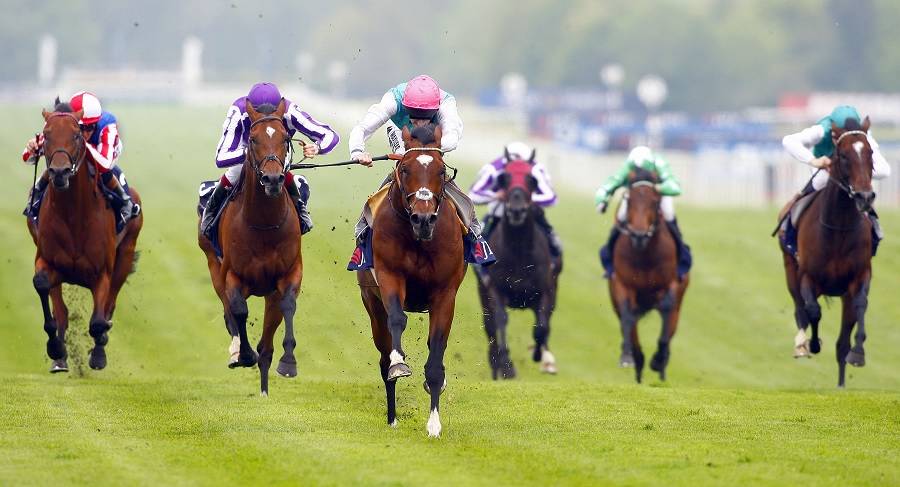 What Is Horse Racing?
Horse racing is one of the most popular sports throughout history and has become one of few forms of gambling legal in most of the world. Tracing its roots back to around 4500 BC, this "sport of kings" was found in most major civilizations around the globe, including ancient Greece and the Roman Empire. Over time, the sport evolved from a few horses running across a field to a multi-billion dollar institution heavily regulated and monitored by sophisticated electronic equipment.
Today, horse racing is widespread throughout United States, Canada, South America, Ireland, Great Britain, the Middle East and Australia. There are multiple types of horse races that differ in racing style, distance and type of events included, making betting on races an interesting hobby to take up and a difficult hobby to master. The amount of information available can be overwhelming for someone new to the sport, but knowing some basic terms and tips can make you much more comfortable with getting started.
The Basics Of Horse Racing
At its core, horse racing is very simple. The goal in every race is to reach the finish line first. The horse that reaches the end in the least amount of time wins the biggest prize, with other horses coming close winning smaller prizes. When you bet on horse racing, you want the horses you choose to win so you will get the most money in return for your bet. Throughout history, this basic concept has barely changed.
Over time, a variety of races have been developed, each with their own rules and eligibility requirements. Some races have riders on the horses while others have the riders on a vehicle behind the horses. Some races are designed to showcase speed while others are designed to showcase the stamina of the horses. The wide variety of racing available makes it easy for those who are interested to find types of racing they enjoy.
Types Of Horse Racing
The most common types of horse racing for betting fall into four categories: flat track horse races, harness horse races, steeplechase races and endurance races.
Flat Track Horse Racing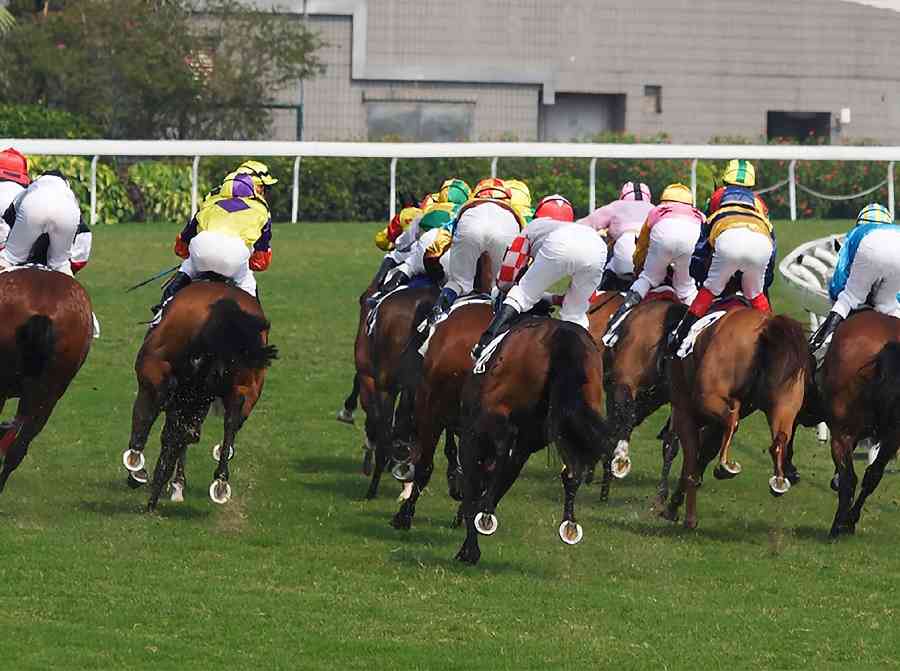 A horse ridden by a jockey, races on an oval track of dirt or turf for distances ranging between 5 furlongs and 1½ miles. These races fall into three main categories: claiming, allowance and stakes races.
Claiming races. Horses entered in the race are bought through a claim for a specified price regardless of the race results. Any licensed individual may claim a winning horse in any unrestricted claiming race.
Allowance races. Horses must meet particular requirements to enter the race. Common requirements include gender restrictions, age restrictions and win-record restrictions.
Stakes races. These are top tier Thoroughbred horse races for horses 3-year-old and older. They are often found at major racetracks and offer the highest prize money for winners.
Harness Horse Racing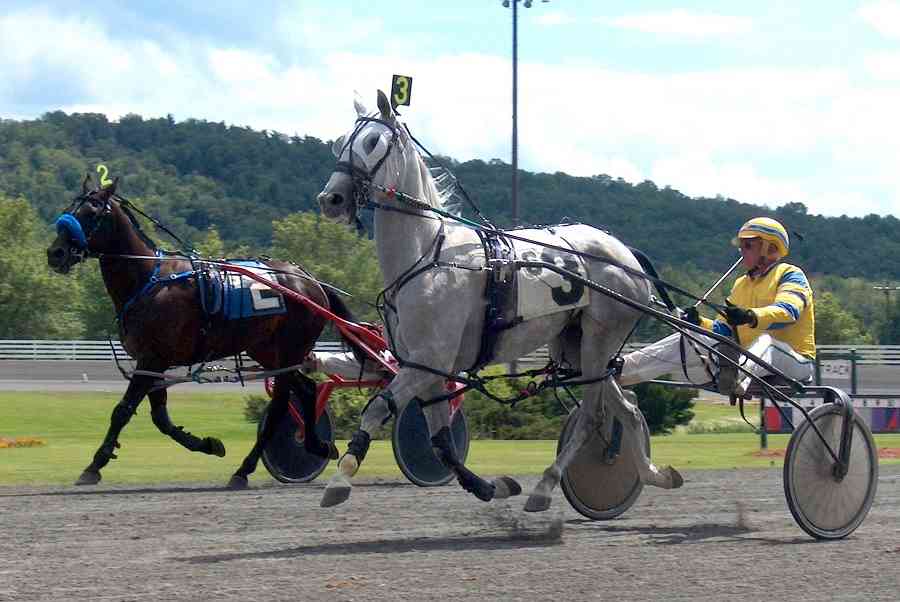 A horse pulling a driver on a lightweight two-wheeled carriage called a sulky, races around a dirt racetrack. These races are divided into categories by the way the horse is supposed to move, or its gait and if the horse breaks this during the race, they are disqualified.
Trot gait races. The horse moves forward by moving its legs in diagonal pairs.
Pace gait races. The horse moves forward by moving its legs on the same side in unison.
Steeplechase Racing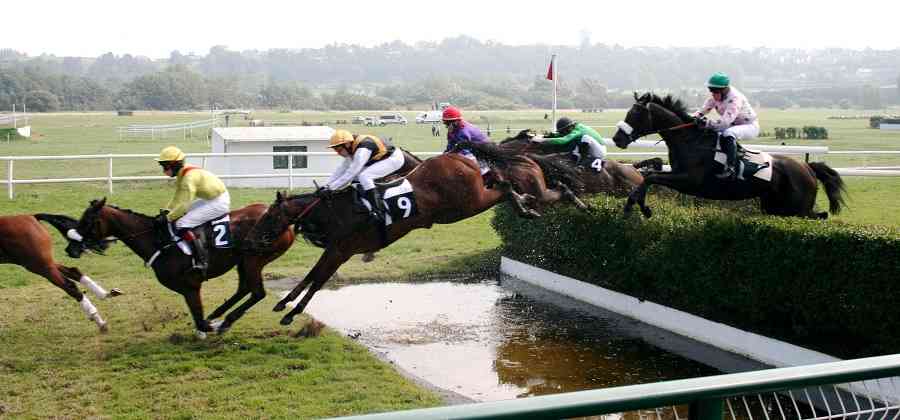 Steeplechase racing is similar to flat track racing, but has obstacles on the track that the horse must navigate on its way to the finish line. These obstacles can include fences, hedges and water hazards. These races fall into two main categories: hurdle races and timber races.
Hurdle races. These races use standardized 52-inch tall fences made of plastic, steel, packed pine or live hedges and stretch distances of 2 or 3 miles.
Timber races. These races use solid wooden rail fences that may be as tall as five feet high and are run over distances ranging from 3 to 4 miles.
Endurance Racing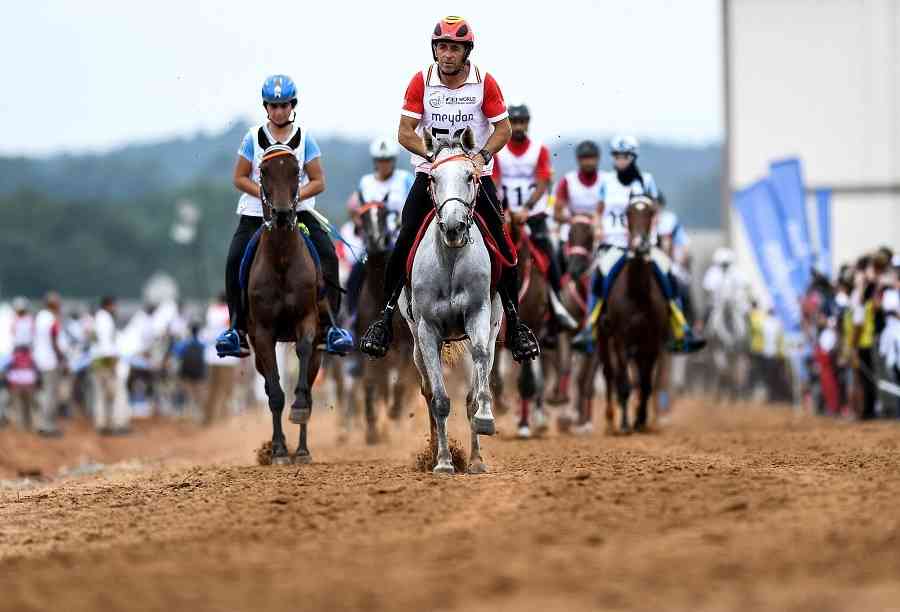 Horses in endurance races cover vast distances from the starting line to the finish without stopping. These races are designed to test the stamina of both the horse and the rider over distances that range from 40 miles to more than 150 miles. These races are grouped by level of fitness and amount of experience.
Competitive trail races. These races involve three events: mounted orienteering, a control display of walking and cantering, and an obstacle course of up to 16 obstacles.
Endurance races. These races involve courses that are either 50 or 100 miles long, although shorter races are sometimes held for less experienced horses and riders.
How To Bet On Horse Racing For Real Money?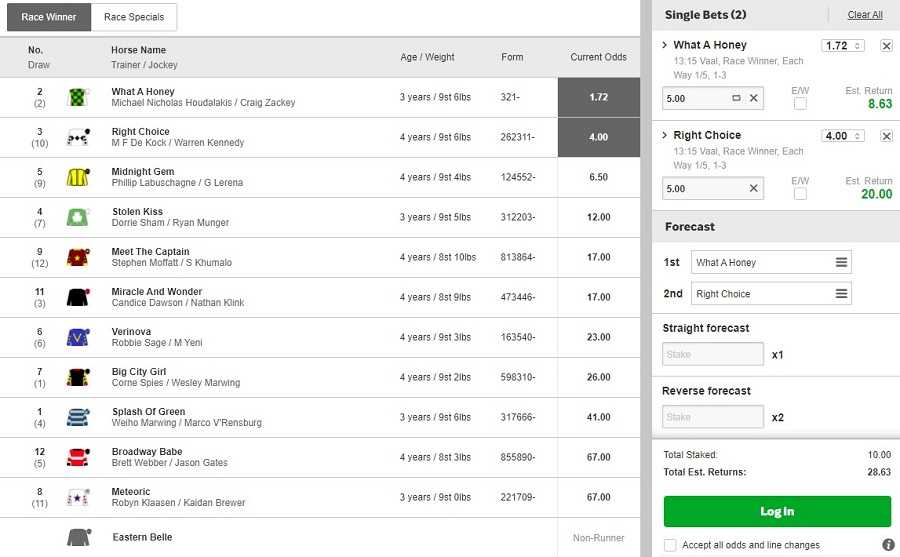 In most cases, the money won from betting on horse races comes from the gamblers' money pooled together, minus a track takeout rate of 15-20% to cover race expenses. The rest of the money is then distributed to the winners. Most tracks round their payoffs to the nearest, lowest 20-cent increment instead of paying exact amounts based on the odds, which are determined by the number of wagers each horse receives.
Generally, the higher the odds, the fewer people believe that horse will win that race. Betting on horses with higher odds is riskier than betting on the favorites, but the rewards are greater when you win. The odds for each horse in each race are prominently displayed to help the people betting make their choices.
To bet on horse racing you can select one sportsbook reviewed by the Gambling King. Create an account, deposit real money and start betting.
There are many different ways to bet on an individual horse race.
These bets are split into two categories:
Straight wagers;
Exotic wagers.
In most cases, the minimum bet amount is 1, although a minimum bet of 2 is required in some cases.
Straight Wagers
Win: The horse you select has to finish first.
Place: The horse you select has to finish first or second.
Show: The horse you select has to finish first, second, or third.
Exotic Wagers
Betting exotic wagers is more complicated than betting straight wagers, based on the combinations of horses you are betting on. In most cases, the gambler is betting at least the minimum bet for each possible combination of winning horses, making these bets more expensive than straight wagers. Here are some of the costs for exotic wagers based on the minimum bet required. The below figures are without currency symbol because it's the same in any currency:
1 Double – two horses over two horses – 4 bet;
1 Exacta – two horses over three horses – 6 bet;
1 Trifecta – one horse over three horses – 6 bet;
1 Trifecta – two horses over four horses – 12 bet;
1 Superfecta – one horse over four horses – 24 bet;
1 Pick 3 – two horses for three races – 8 bet;
1 Pick 4 – two horses for four races – 16 bet.
Single Race Exotics
Exacta: You must select the horses that come in first and second in exact order.
Trifecta: You must select the first three finishers in order.
Superfecta: You must select the first four finishers in order.
Super High 5: You must select the top five finishers in order.
Quinella: You must select the first two finishers, they can finish in either order.
Multi Race Exotics
Double: You must pick the winning horses of two consecutive races.
Pick 3: You must pick the winning horses of three consecutive races.
Pick 4: You must pick the winning horses of four consecutive races.
Pick 5: You must pick the winning horses of five consecutive races.
Pick 6: You must pick the winning horses of six consecutive races.
For some exotic wagers, you have the option to "box" your bet, meaning you will win if you selected the winning horses in any order.
👑 Gambling King's Best Sportsbooks
How To Bet On Horse Racing At A Land Based Casino?
Betting on horse racing at a land based casino or race track is fairly straightforward. Most of them have extensive betting areas with agents ready at multiple windows to take your bet. After your bet has been placed, the agent will give you a ticket printed with the details of your bet. If you lose, you tear up the ticket and try again. If you win, you take your ticket back to a window to collect the money you've won.
The process for making a bet at a ticket window is:
Say the name of the track;
Say the race number you are betting on;
Say the amount you would like to bet;
Say the type of bet you are making;
Say the horse number or numbers you are betting on;
Check the ticket for correct information before you walk away from the window.
How To Bet On Horse Racing At An Online Casino?
Betting on horse races through an online casino is a different process. The first step is to create a funded account with the online casino, which should only take a few minutes to complete. After the email address and funding source has been confirmed, you will gain access to all of the information you need to start placing your wagers.
Many online casinos offer a wide range of horse races from all over the world to bet on. These races will be displayed on the racing schedule available on the casino's website. To place a wager, click on the race you would like to place a wager on. You can then choose the type and amount of your wager and select the horse or horses you would like to bet on. The wager amount is deducted from the funded account and winnings are automatically added to available funds, which can be transferred back to the funding source at any time.
Horse Racing Betting Strategies
If you are planning to start betting on horse racing, keeping some simple betting strategies in mind will help increase your chances of success.
Start Small
If you are inexperienced at betting on horse racing, it is best to start with small bets so you do not lose a lot of money while you are trying to learn the ropes. You can always increase the amount of your bets after you gain more confidence in the processes.
Educate Yourself
There are many terms and calculations used that are specific to horse racing, which can be confusing to novices to the sport.
Take the time to educate yourself on the common terminology and how to read the different forms so you have a better understanding of the racing information you are seeing.
Focus On Quality Over Quantity
Your attention should be on making quality bets, not betting on every race. The more races you bet on, the more chances you have to lose. If there is not a reasonable chance of success at reasonable odds, save your money for betting on a better option.
Don't Be Afraid To Change Strategies
Most people betting on horse racing have developed some type of personal strategy for placing their bets, but those strategies don't work all of the time. If the strategy you are using isn't working for you, change it up and see if the new method works better. Be patient and learn from your mistakes.
How To Bet On Horse Racing And Win?
Bet The Top Horses
Betting the top horses increases your chances of winning. Nearly all of the winners in horse racing come from the four horses with the best odds in the race, with the favorites winning nearly one-third of the time. Winning smaller amounts more often is preferable to losing most of the time with a few larger wins.
Bet The Top Trainers
Another favorite strategy is to bet on the top trainers in a race. The top trainers have solid track records of winning races and prize money and may have more success in specific areas of the sport.
Bet The Top Jockeys
A large majority of all races are won by jockeys in the riders' standings top ten positions. These jockeys are highly sought after and will typically be riding the horse with the best chance of winning.
---
Frequently Asked Questions
What Types Of Horse Racing Exist?

How To Bet On Horse Racing?

How To Bet On Horse Racing For Real Money?

How To Bet On Horse Racing At A Land Based Casino?

How To Bet On Horse Racing At An Online Casino?

Which Are The Best Horse Racing Betting Strategies?

How To Bet On Horse Racing And Win?
---