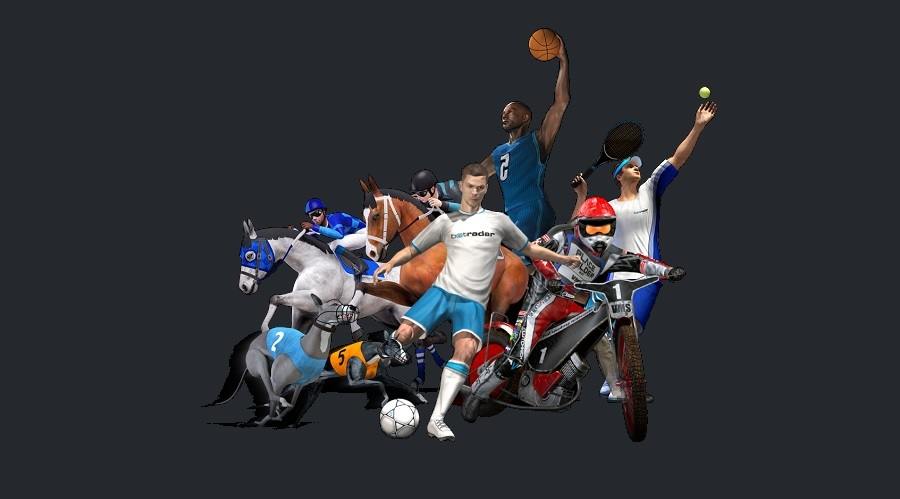 There are many ways to bet on sports, but how about virtual sports?
Virtual betting is slowly becoming a mini phenomenon in online gambling. Through it, punters can now bet on computerized races, football matches, eSports and many more. Please note that these are events settled upon by a random number generator (RNG).
What Are Virtual Sports?
Virtual sports are simulations of real sporting events, generated by a software application programmed to abide by certain rules.
Today's virtual sport is just a very fast version of the real-life sports you see on TV.
Correlation With Real Sporting Events
Even though virtual sports are software games customized to meet specific requirements, punters can use their resemblance to real sports when betting. Professional bettors can apply the same factors they use when wagering in actual games to bet.
For example, when you look at simulations of football games, each match must consider the rules applied in real football games. The rules often touch on different types of matches:
Domestic;
World cup;
League.

Therefore, each match will have different rules. These rules will feature prominently in the virtual environment.
The Basics Of Virtual Sports
Virtual sports operate on simulated sporting events and fixtures. They can feature fictional or real-life teams that punters can wager on. Presently, many use graphics that contain visuals that designers have modeled on existing stadiums.
They deploy highlight reels and commentary to help generate an immersive experience for the punter. In short, anyone wagering on a virtual sport will get the impression that they're watching a live game.
It's important to note that all punters get access to the same event schedules and outcomes. Every market and bettor gets assigned fixed odds, which the random number generator uses to determine the outcome of that event.
The basics of virtual sports are:
Competition
The key element in virtual sports is that it needs some sort of competition. If there are no competitors, it cannot be classified as a sport. Virtual competitions can also be between individual players or teams and sometimes even both, which are actually called eSports.
Skill
Almost all virtual sports require skill to win and usually, the better player wins. There is a real element of skill in the best virtual sports contests.
Rules
Almost all virtual games have some kind of set of rules to follow, even if they don't have specific official associations.
Entertainment
Virtual sports is all about entertainment. Few people would bet on virtual games if they weren't entertained or found interesting enough to wager money.
Example Of A Virtual Football Match
Manchester Rovers (1.45) – London United (2.90) , draw (6.70).
This shows that Manchester Rovers have a 1.45 chance of winning the simulated event, while London United has a 2.90 chance. The possibility of this event ending in a draw stands at 6.70.
If the fixtures are based on real-life teams, the software may use the team's ability to determine the odds and the outcome of the match.
Types Of Virtual Sports
Virtual sports have become dominant in the iGaming world since the onset of the COVID-19 pandemic, which led to the cancellation of global sporting events. Its incorporation of casino and sporting aspects has also made it popular with punters worldwide.
Types of virtual sports include:
Virtual Football

Its inclusion in this category shouldn't surprise you, considering it's among the most popular offline sports worldwide. But unlike real-life football, virtual football takes two to three minutes to end, not the standard ninety minutes.
Virtual American Football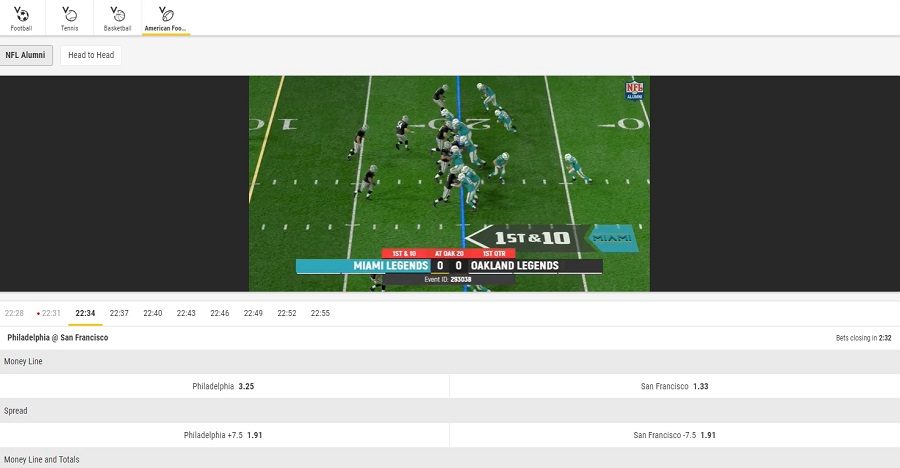 The entire match of virtual American football game lasts 2 or 3 minutes.
Virtual Basketball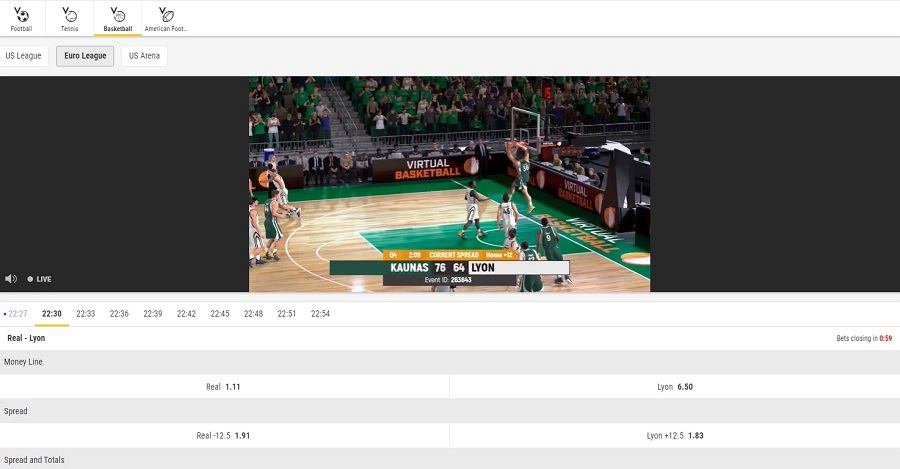 The entire match of virtual basketball game lasts 2 or 3 minutes.
Virtual Tennis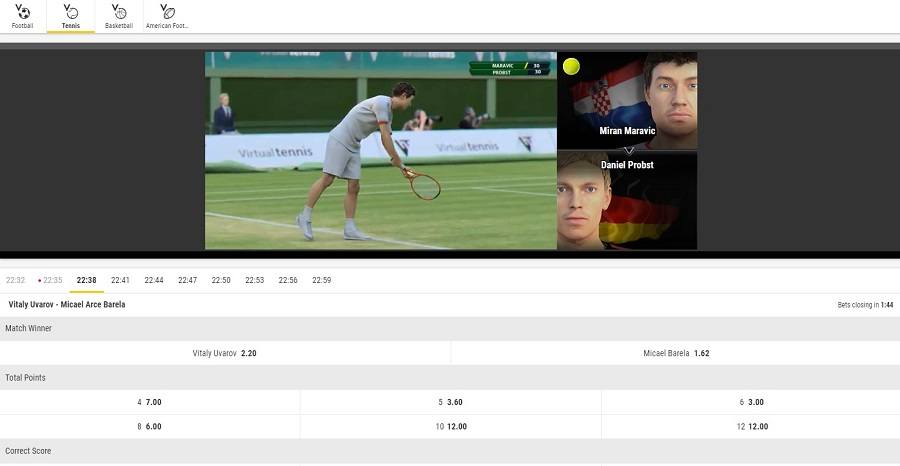 Virtual sports developers have used footage from past tennis matches to create virtual games. Gamers can use their rackets to catch all lobs, drop shots, volleys, aces and serves. The graphics offer an unmatched level of realism.
Virtual Darts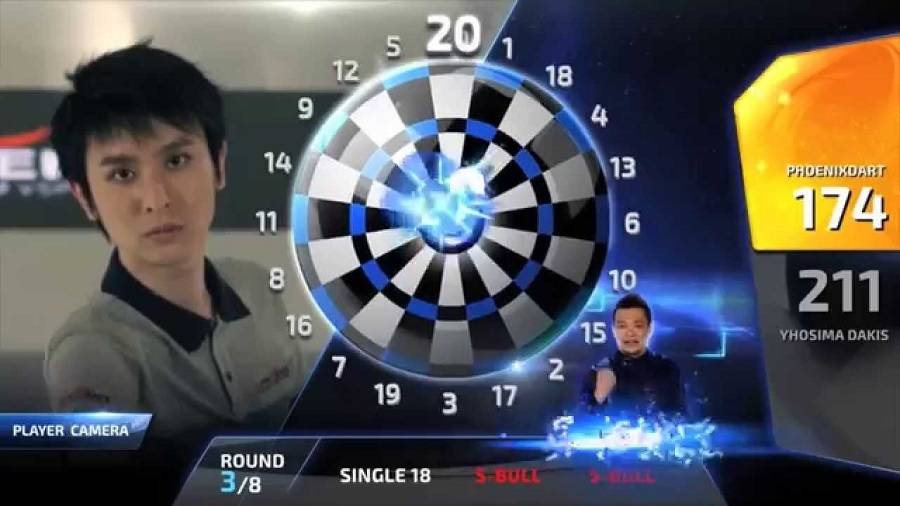 Although it may not appear like a possible frontrunner, several developments in virtual darts have helped make it a fan favorite. Developers have managed to mirror the feel and look associated with watching a real match as it unfolds.
Virtual Baseball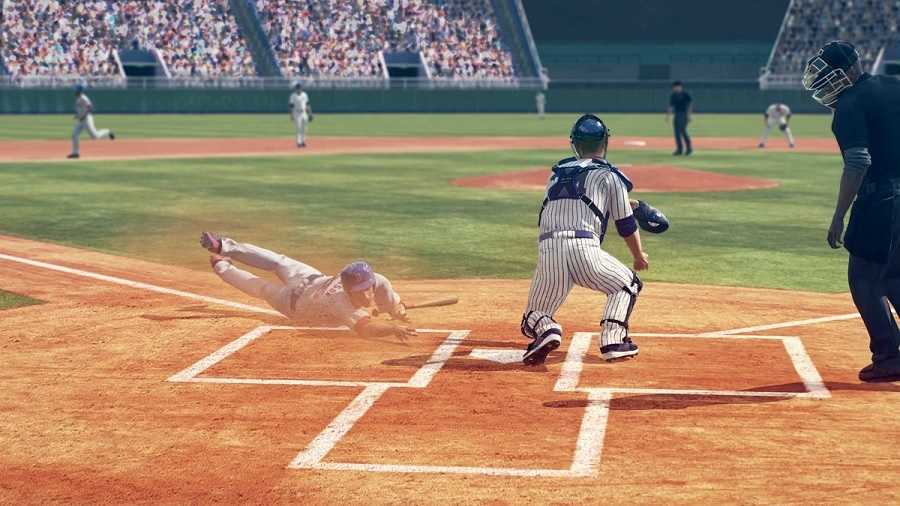 The entire match of virtual baseball game lasts 2 or 3 minutes.
Virtual Horse Racing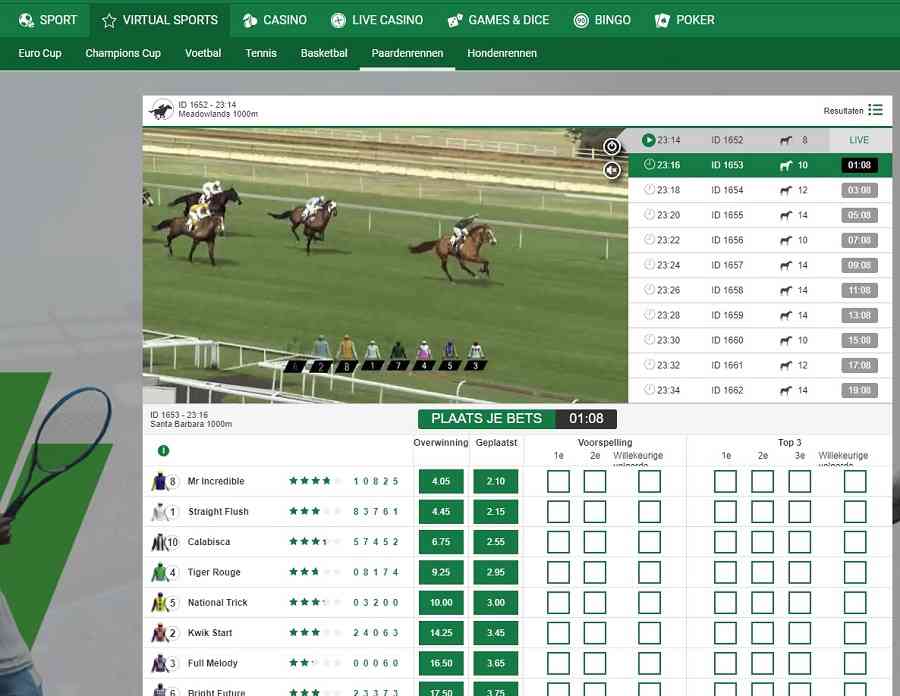 Many online punters consider virtual horse racing a stalwart in the world of virtual sports. Its graphics are near-perfection which may cause you to believe that you're watching the real thing and not a simulation.
Virtual Dog Racing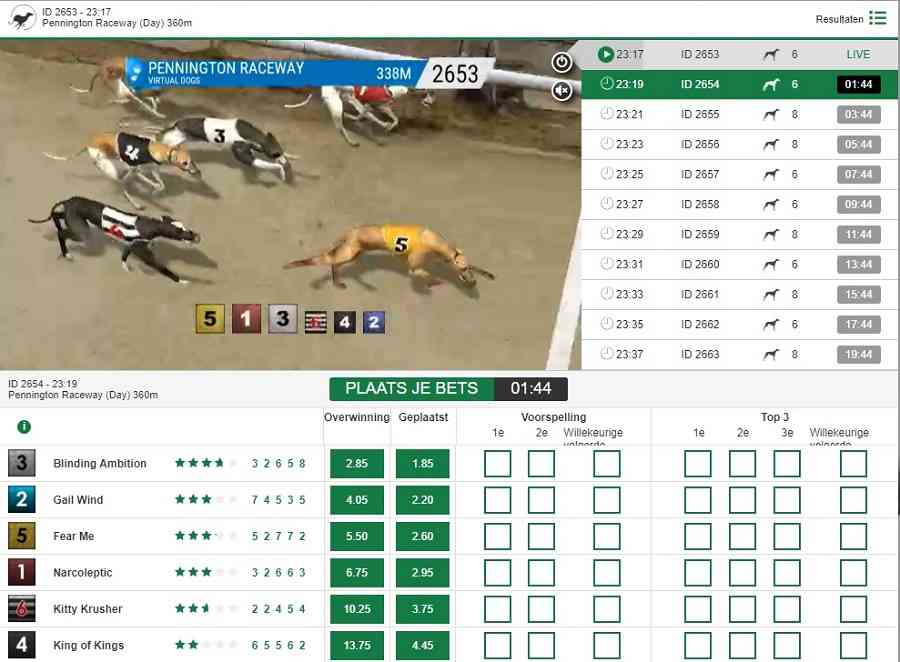 Believe it or not, dog races are an actual event that has proven popular both online and offline. Its popularity online may one day surpass that of virtual tennis, football and darts if its recent popularity surge is anything to go by.
Virtual Racing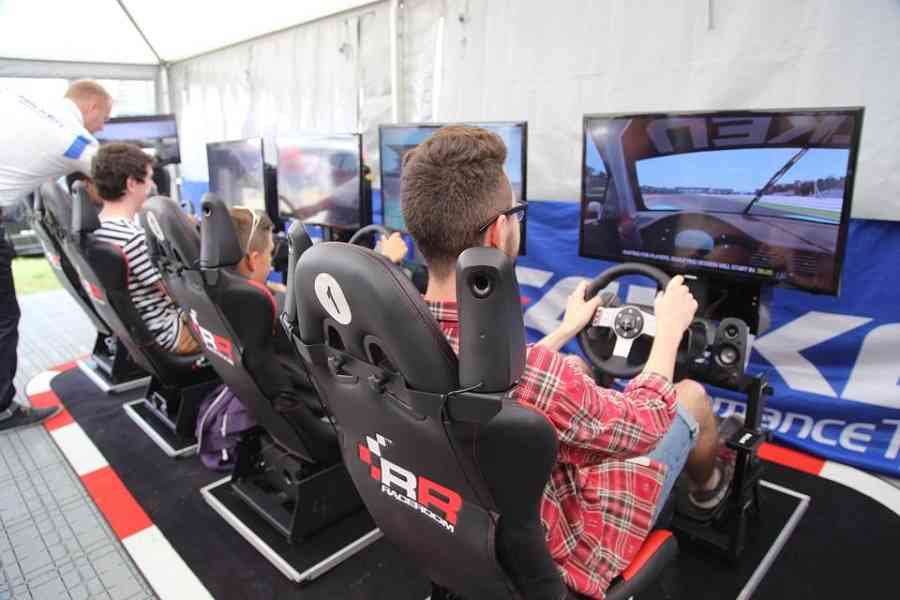 Virtual racing is another popular form of virtual sports betting. It's also known as horse racing, auto racing, motorsport, etc. Racing games are played on a track with a line and finish. Players use a variety of vehicles to compete against each other.
Some of the most popular types of virtual racing include:
NASCAR;
IndyCar;
FIM Superbike World Championship;
MotoGP;
World Rally Championship.
Virtual Fighting Games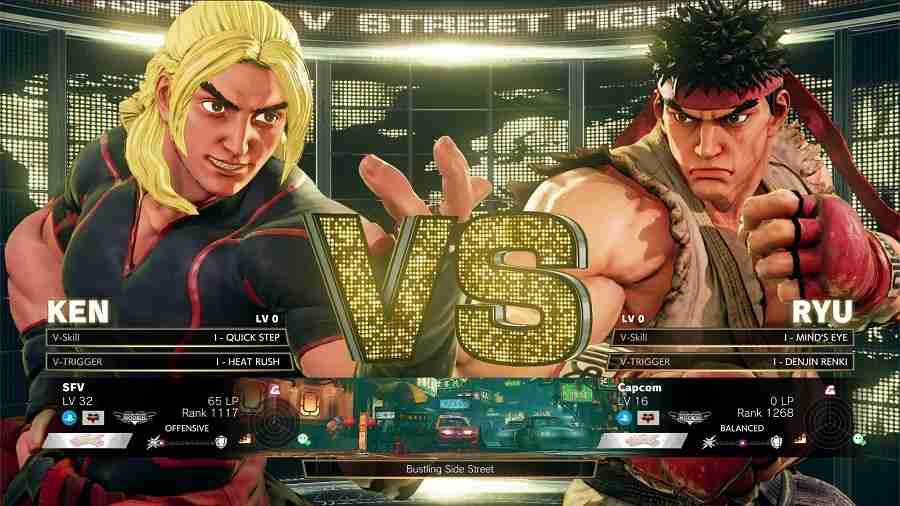 Another great way to enjoy virtual sports betting is competing against other people in fighting games. These games involve punching and kicking opponents until one player loses. They take place in arenas, and players use a wide range of weapons to fight.
Popular virtual fighting games include:
Street Fighter;
Tekken;
Mortal Kombat;
Soul Calibur;
Virtua Fighter.
Action Games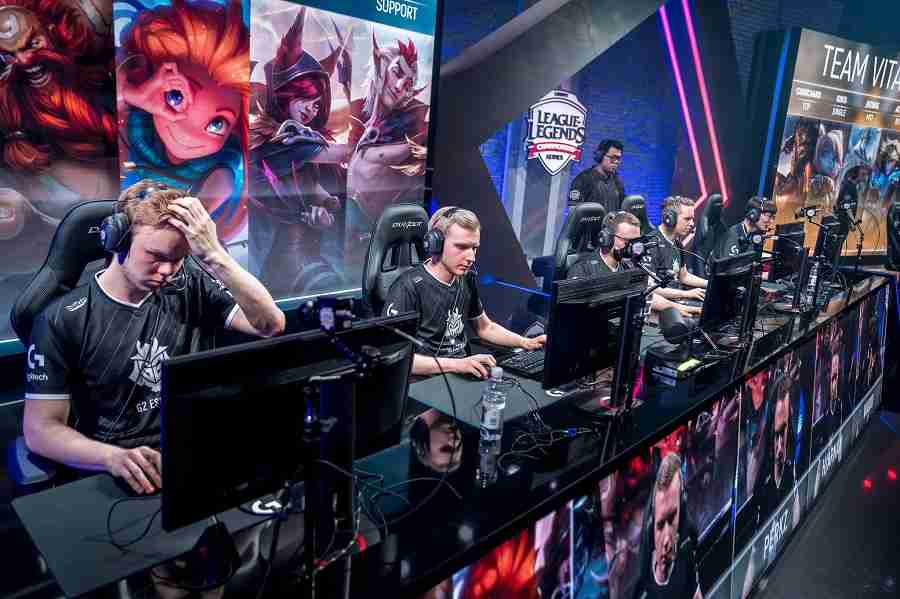 In these games, you control an object or character and must move it through various obstacles. Action games are often based on movies or video games.
Examples of action games include:
Tomb Raider;
Batman;
Grand Theft Auto.
Fantasy Sports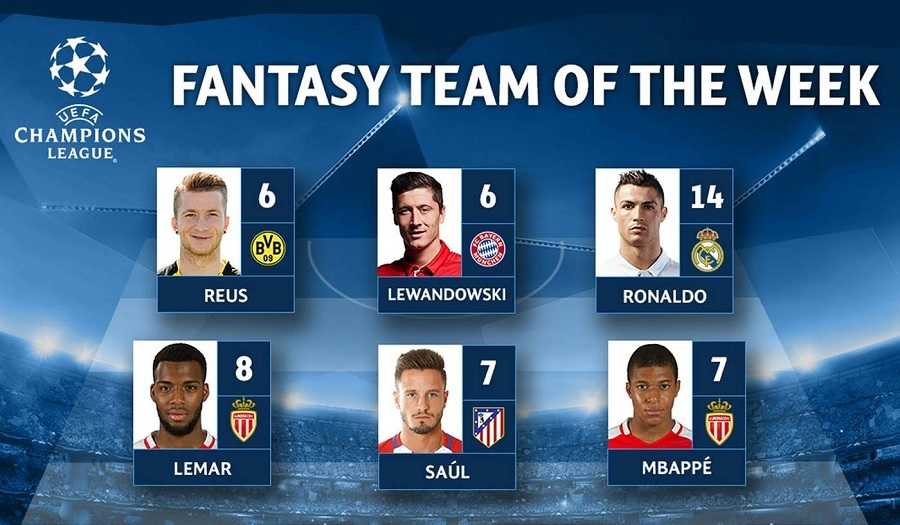 One of the newer forms of virtual sports is fantasy football. This genre allows users to create custom lineups of professional athletes who compete against one another. Users are required to pick the best player from each position group (e.g., quarterbacks, running backs, wide receivers).
How To Bet On Virtual Sports For Real Money?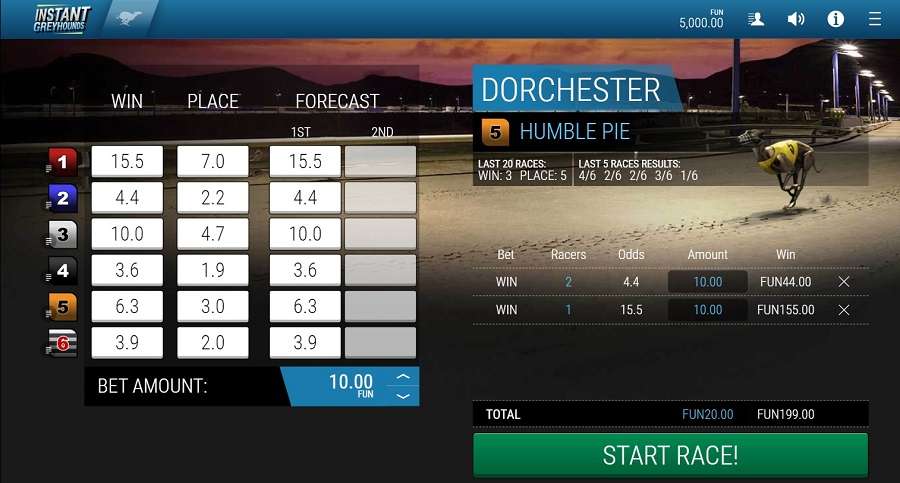 Before you can start wagering on virtual sports, you have to note that it's different from real-life betting. It may work the same way, but the rules are slightly different.
Use these tips the next time you want to wager on virtual sports:
Choose A Reputable Betting Site
Before you start betting, make sure you choose a legitimate online casino who offers virtual sports betting or you can choose one from the Gambling King's best online casinos with virtual sports.
Many betting sites out there offer this service, but not all of them are safe. So, look for a site that is trusted and well-known.
Create An Account
If you want to bet on virtual sports, you need to set up an account. This will allow you to keep track of scores, standings, statistics and other relevant information.
To create an account is pretty straight forward, you need to click on the "register" button on the online casino page, fill in your details and finalize the registration progress. In most of the cases you will receive an email to activate your gambling account.
Deposit Money In Your Account
After creating your account, you should head to the "deposit" section and fund your account. You can either deposit money via bank transfer, debit or credit card, or by using PayPal, Skrill, Neteller or other eWallets, even cryptocurrency like Bitcoin, Ethereum, Dogecoin, Bitcoin cash and others.
Place Your Wagers
Once funds are available in your account, it's time to start betting and winning!
To place a wager, first you must find your game you want to bet on, then place the wager on the home or away team, or in other cases on your favorite. Enjoy!
Check Results
After placing a bet, it's just a matter of waiting for results to appear. In some cases, you may not even be able to view the scores right away.
👑 Gambling King's Best Virtual Sports Online Casinos
How To Bet On Virtual Sports At A Land Based Casino?
Many people interested in betting on virtual sports also want to be able to do it at a land based casino. The good news is that this is possible. Even though the rules are different, you'll still have just as much fun. You can even find casinos that allow you to play virtual games for cash prizes.
Here are some steps to follow if you want to bet on virtual sports at a land based casino:
Look For A Casino Near You
Start your search for a local casino either by asking friends or searching online.
Choose A Land Based Casino
Once you've narrowed down your list of options, choose a casino with the games you want to play. If it offers virtual sports, that's even better because you can place wagers on different games.
Review The Requirements
Before you begin betting for real money, do some research and find out if you need to meet any requirements. This way, you'll know whether or not you're eligible before placing a bet.
Make Your First Deposit And Bet
Make your first deposit to place virtual sports bets for real money. Exchange real money into chips at the cashier or pay with real money the bet slip you want to validate.
How To Bet On Virtual Sports At An Online Casino?
The following steps will help you get started:
Choose A Site That Offers Virtual Sports Games
Before you start betting on virtual games, it's important first to find a platform that offers these types of games. If you're new to this, it's recommended that you choose a site with lots of great reviews and testimonials from previous players like you can find on the GamblingKing.com
Create Your Account
Create your account before placing any bets. Keep in mind that maybe you must supply proof of address and other personal information before getting started with your account.
Deposit Real Money
Now it's time to make your first deposit so you can place virtual sports bets for real money. There may be a minimum deposit requirement or other fees involved depending on the bookie. Review all policies and terms before depositing money to ensure you understand everything.
Choose The Game You Want To Bet On
Choose the game you want to play. There are many virtual sport games out there, so do some research and find the ones that interest you the most.
Place Your Bet
Now that you've made your way through the process, it's time to get started by betting and winning!
To place a bet you need to navigate and select a game on which you want to place a bet, the bet can be on the home team, away team, draw and many other options. After you placed your bet and selected the stake, you need to validate the betting slip by confirming the bet. Enjoy!
Remember that virtual sports are meant to be fun, so enjoy them while responsibly using this type of entertainment option.
Results
Once the match is finished and you have won the bet, you will notice money added to your balance.
Virtual Sports Betting Strategies
Most gamblers tend to focus more on their winnings than they do on strategies. Fortunately, many experts have come up with some useful guidelines worth considering. Let's have a closer look at them:
Take time to understand how the RNG works. The computer algorithm will determine which team will win, not the players' performance;
Select your preferred virtual sports wisely. Each sport will apply different parameters, influencing your chances of winning;
Don't rely on patterns and past trends (it's called the gambler's fallacy). It's impossible to spot patterns with virtual betting. You can occasionally spot an emerging pattern with real-life betting that can lead to handsome profits. The same doesn't apply to virtual sports;
Some players will focus on virtual sports games that offer many wagering options. When they do, they routinely take advantage of all the betting lines and odds so they can win as much money as possible;
Another strategy is to look for sportsbooks with positive reviews from previous players. It's important to choose a platform with high approval ratings, so you know that your experience will be a good one;
Look for sportsbooks with many different games so you can mix up your casino play. For example, some people will only bet on virtual sports, while others may bet also on live football or other real sports;
Consider placing your bet on the favorite (it always has the lowest odds);
Another important factor of the game is to know when to stop playing. Some people can get carried away, so it's important to practice restraint and only bet with the amount you're comfortable losing;
Use bonuses to your advantage. Casinos will offer bonuses that you can use on virtual sports. Most bonuses typically comprise matched deposit bonuses. These bonuses will give you extra betting stakes depending on the amount deposited. Provided you have read the terms and conditions, the bonuses can enable you to get more from each betting session;
Don't chase your losses. Nobody likes to lose, but the worst thing you can do in virtual sports betting is to attempt to chase your losses.
How To Bet On Virtual Sports And Win?
Every punter needs to strategize if they are to win a bet. The following tips should give you a clue on how to bet on virtual sports and win:
Carefully consider the virtual sports you want to try out;
Target certain bets for every sport, e.g., match results for football and tennis;
Try to back the favorites most of the time, but not always.
If you're interested in wagering on virtual sports, make sure to follow the tips mentioned above. Remember to select your preferred team wisely. Additionally, use small betting amounts to enable you to cover your losses and play for a longer duration.
---
Frequently Asked Questions
Which Are The Basics Of Virtual Sports?

What Types Of Virtual Sports Exist?

How To Bet On Virtual Sports For Real Money?

How To Bet On Virtual Sports At A Land Based Casino?

How To Bet On Virtual Sports At An Online Casino?

Which Are The Best Virtual Sports Betting Strategies?

How To Bet On Virtual Sports And Win?
---