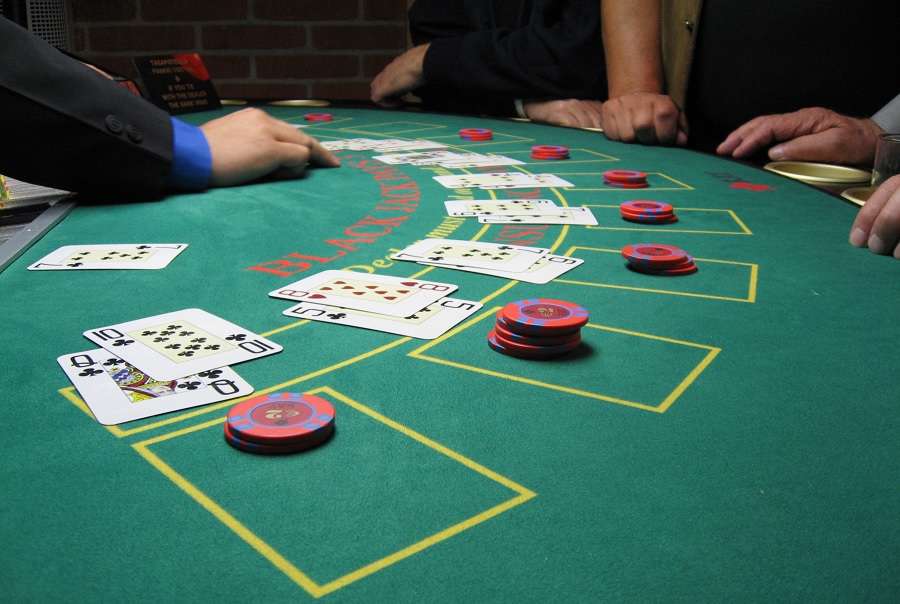 What Is Blackjack?
Blackjack is a widely popular casino banking game, which many people may still refer to as "twenty-one." This game is one of comparison, where each player competes against the dealer only and not against each other. These games consist of 2 or more players though there are rarely more than seven playing at a time.
The object of classic blackjack is to reach 21 without going over. Participants play with 52-card decks and the dealer is responsible for running everything from shuffling to keeping track of bets. In the casino version, the house is always the dealer.
The dealer stands while the players are seated. Blackjack is a popular home game too and any player can be the dealer in that version.
The Basics Of Blackjack
Participants attempt to get their card totals to 21 (or as close as possible to 21 without going over). At the beginning of the game the dealer deals out two cards for each player and themselves. For each turn, a player may choose to hit and be dealt an additional card or stay and keep only the cards they have. If a player's card totals exceed 21, it is called a bust. The result is the player loses that hand.
In blackjack, pip cards are worth their shown value. Face cards are worth 10, so they are commonly called "10-cards." An ace can be worth 1 or 11 – it is up to the player to decide for each.
In a casino betting environment, players make their bets before the dealing begins by placing their chips in the designated area of the table. Casinos vary in their stated betting minimums and maximums, but limits are often as low as 2 or as high as 500.
Before each hand, dealers will shuffle the deck thoroughly. They will usually ask one player to cut the deck. It is common for casino dealers to use multiple 52-card packs, the six-deck game being the most favored with 312 cards in all. Dealers frequently also insert a plastic card that separates the playing deck from the last 60 to 75 cards. Doing so makes it more difficult for players to gain any advantage by card counting.
Once players have made their bets, the dealer gives a round of face-up cards to each player and themselves. Dealing starts with the left-most player and continues clockwise. The dealer then hands out another round of face-up cards to the players. The dealer's second card, however, goes face down. Players are not allowed to touch their cards.
Each player, in turn, will decide to hit or stand. That is, they decide whether to take another card or keep their initial two cards. This way, a player can continue to ask for more cards until they either reach 21, decide to stand on what they have, or go bust.
If a player goes bust, the dealer collects that person's wager (the player loses). If the dealer goes bust first, he will pay out bets to the players who have stood to that point. When the dealer stands at 21 or less, he pays out bets to any player with a higher total and collects from players with lower amounts. If a player has the same amount as the dealer, it is a stand-off, and the dealer neither collects nor pays out any chips. Reaching 21 is called "blackjack".
Types Of Blackjack
The above description is accurate to the way most casinos run classic blackjack or American blackjack. However, there are several other versions from across the globe, which are popular in their own right. The following are a few of the better-known and widespread alternatives to classic blackjack, along with their distinguishing characteristics:
European Blackjack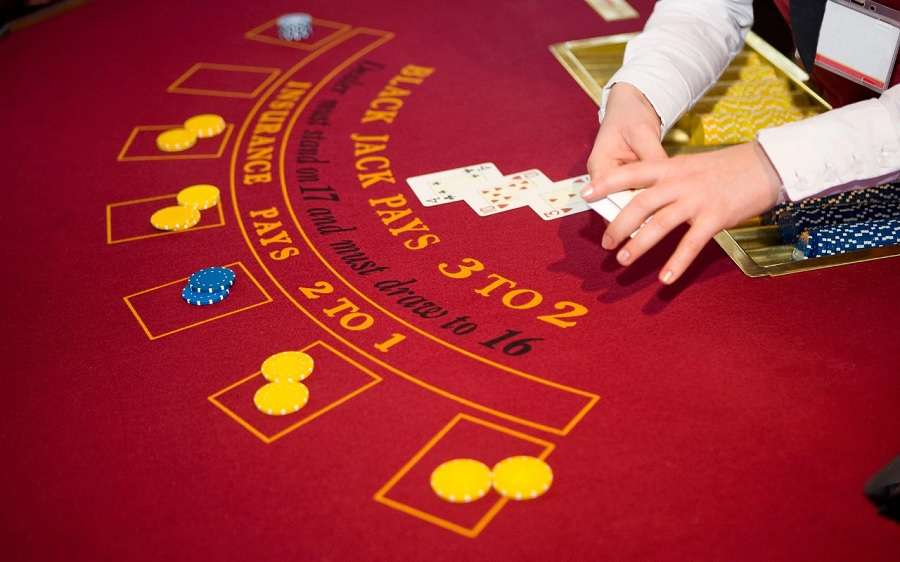 A European style of blackjack;
Shares similarities with roulette;
Often played with just two decks;
Dealer stands on a soft 17;
Dealer does not check for blackjack after dealing;
Dealer blackjack against player blackjack results in a tie or push;
Players can double down only when showing a 9, 10 or 11;
Blackjacks pay 3:2.
Face Up 21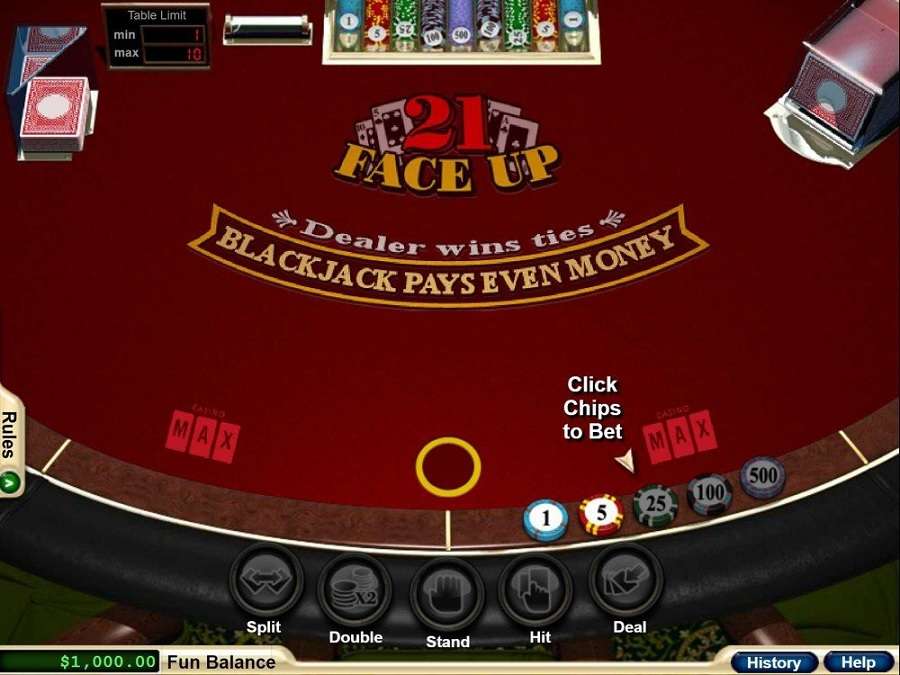 Both of the dealer's cards are dealt and kept face-up;
Dealer hits on a soft 17;
Dealer blackjack beats player blackjack;
Blackjack only pays evenly;
Players can double down only when showing a 9, 10, or 11.
Perfect Pairs Blackjack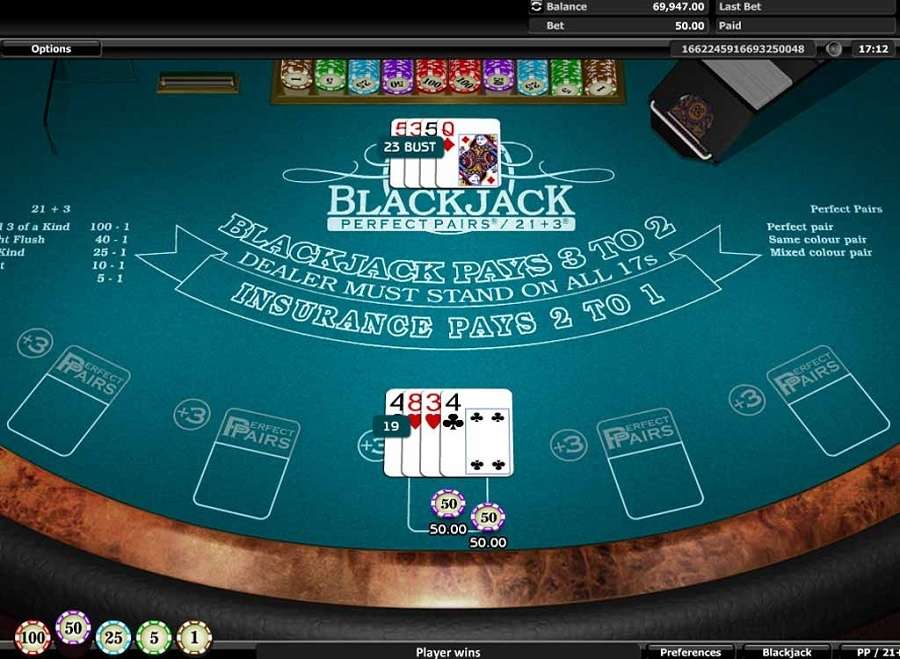 Same rules as regular blackjack – but with extra side-betting opportunities;
Players can make a side bet at the start of each hand concerning whether their first two cards will be the same value;
If a player's pair is two of the same value but different in suit and color, the payout is 5:1;
If a player's pair is two of the same value and color but a different suit, the payout is 10:1;
If the player's pair is completely identical, the payout is 30:1 (a "perfect pair").
Spanish 21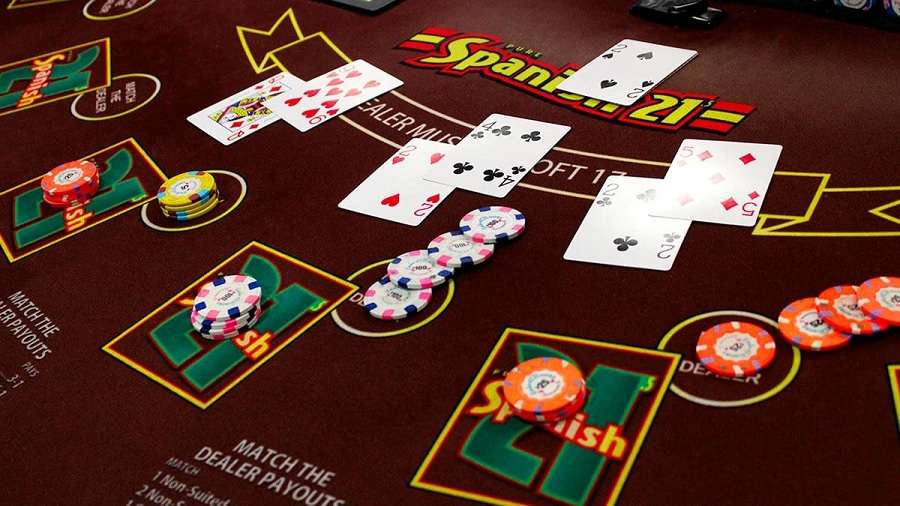 One of the most popular versions besides classic blackjack;
Thought to be among the most "player-friendly" games you can find at a casino;
All 10 cards are removed from the deck;
Dealer hits on soft 17 (this depends from casino to casino, dealer might draw on 16 and stand on the rest);
Player blackjacks always beat dealer blackjacks;
Re-splitting is allowed (even with aces);
Players can double down on any point total (even after splitting);
Five-card 21 payout is 3:2;
Six-card 21 payout is 2:1;
Seven-card 21 payout is 3:1;
A 6-7-8 or 7-7-7 combination pays 3:2 (or 2:1 if they are all the same suit);
1000 bonus for a 7-7-7 combination of all the same suit while the dealer also holds a 7.
How To Place Blackjack Bets?
Before you can place a bet in blackjack at a casino, you will first need to get your money exchanged for chips. For the most part, casinos no longer allow cash-only wagers anymore. Place your money on the felt for the dealer to pick up. Dealers will not take the money from you directly. Instead, they will lay out the cash on the table so that the cameras can see the amount. A pit boss will come by to verify the amounts as well.
Once verified, dealers then count out the equivalent value in chips. They give you the chips by pushing them towards you on the table. At that point, you can handle the chips and use them to place your bet. Place the appropriate chips for the amount you wish to bet on the betting circle in front of you. The "circle" may not always be literal. It could be a square or a logo printed on the felt. Do not forget to check for minimum and maximum betting limits, which you should see posted on signage nearby.
How To Play Blackjack For Real Money?
Most land based casinos allow you to play blackjack for real money by default. In the world of online gambling, however, it varies. Some sites allow you to play just for fun, while others manage games where players bet real money. There are thousands of websites and online casinos that you can visit to play blackjack this way. The trick is to know which are suitable and which to avoid.
To play blackjack for real money first you need to deposit real money, sit at a table and start betting.
Here are some tips when checking out these websites:
Check that the online casino is regulated by an international gaming authority;
Look for easy-to-use sites that have high security standards;
Check out guides, lists and direct customer reviews to help determine whether any one site is trustworthy and attractive to you;
If you are still unsure whether you trust an online casino with your financial information, try one that interfaces with third-party websites and funding accounts. You may already use such accounts and spot one you like as an option on the casino website.
👑 Gambling King's Best Online Casinos With Blackjack
How To Play Blackjack At A Land Based Casino?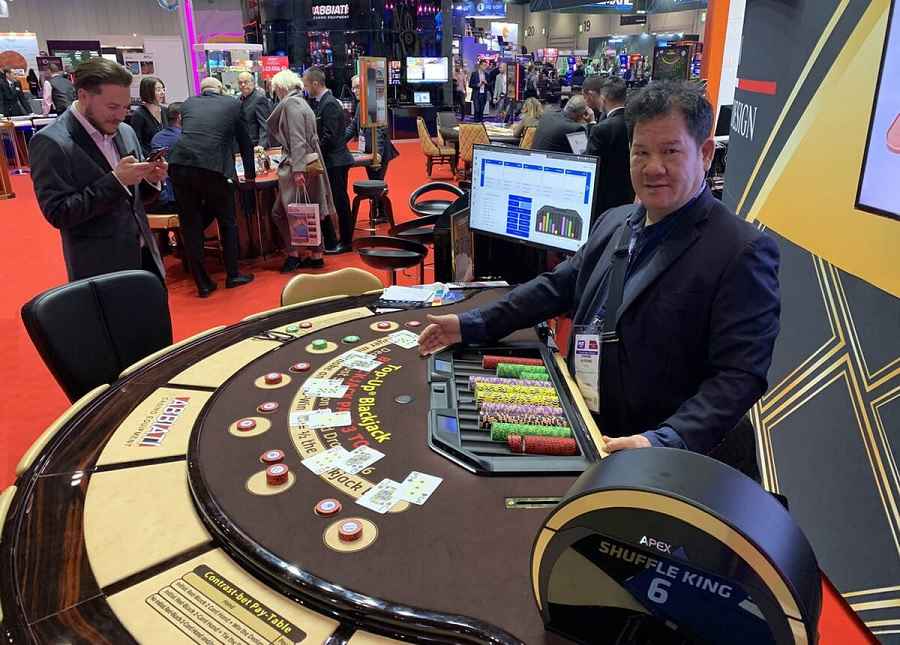 To play blackjack at a land based casino, find the table games section. There should be several blackjack tables set up and possibly multiple versions of the game available to play. Betting minimums and maximums should be prominently displayed nearby the tables. Choose whichever game and betting range with which you feel most comfortable.
To enter an ongoing game, you could just blunder your way through it as an amateur. However, you might find it more helpful to know the etiquette beforehand. For example, it is polite to ask the other players at the table if you may join before you sit down. New players are nearly always automatically welcome. That said, most players consider it rude to begin abruptly without a courtesy ask.
If you did not already get chips from a cashier, you may ask the dealer. If there is a hand in progress, you should wait until the hand ends to do so. When exchanging your cash for chips, place the money on the table and wait for the dealer to take it.
Once you have placed your bet, do not touch your chips again during the hand. If your wager includes more than one denomination of chips, stack them so that the heaviest is on the bottom and the lightest is on top.
Regular blackjack players use hand signals to indicate whether they wish to hit or stay instead of talking. To blend in seamlessly, learn these signals by watching the other players and adopt this behavior.
Finally, some people consider it good etiquette to tip the dealer at the end of the hand, regardless of the outcome.
How To Play Blackjack At An Online Casino?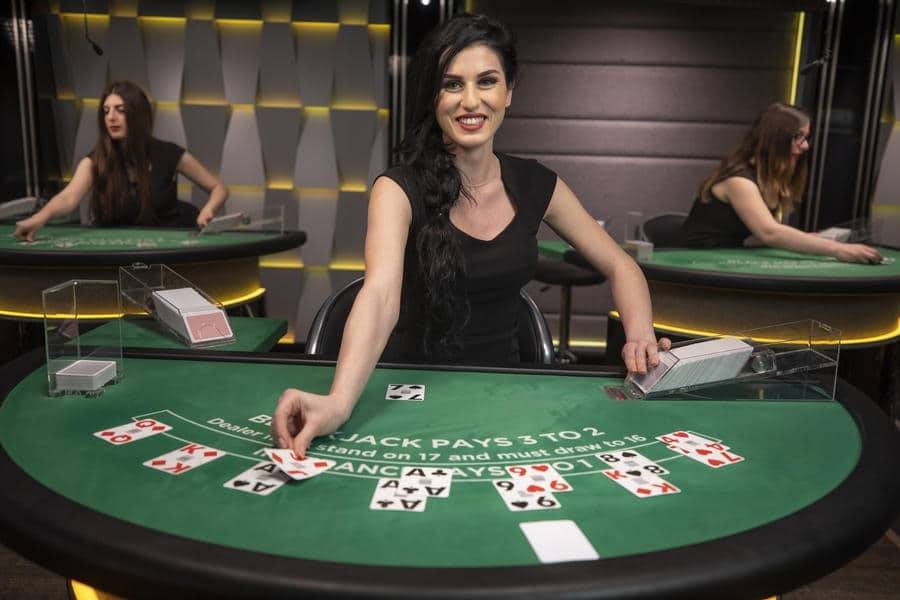 Blackjack games within online casinos will offer the same basic gameplay and versions you may be familiar with from land based casinos.
To start, you should determine which online casinos are operating legally within your state. Also, check if they are regulated by international gambling authorities as well. You must be of legal gambling age within your state. Check what the age cutoff is if you are not sure.
Conduct further research into the quality of legal gambling sites available to help you decide which are risky or not. You may also want to check out what other games the websites you are interested in have available. You might like to have options for different versions of blackjack or different games altogether.
Once you have chosen a website (or app, since apps are another online gambling option growing in popularity), follow whatever links are displayed to register with the site. After completing the initial registration, you may have several options to select from for payment methods. You could enter your banking or card information directly within the gambling website, but some sites will offer you alternatives like PayPal or e-wallets. These might present a more secure route to deposit and withdraw funds.
Next step is to find a blackjack table where you can sit and finally to start betting.
Besides digital blackjack, keep in mind that live online games exist. In this scenario, you can watch and interact with a live blackjack dealer in real-time through an online portal.
Blackjack Strategies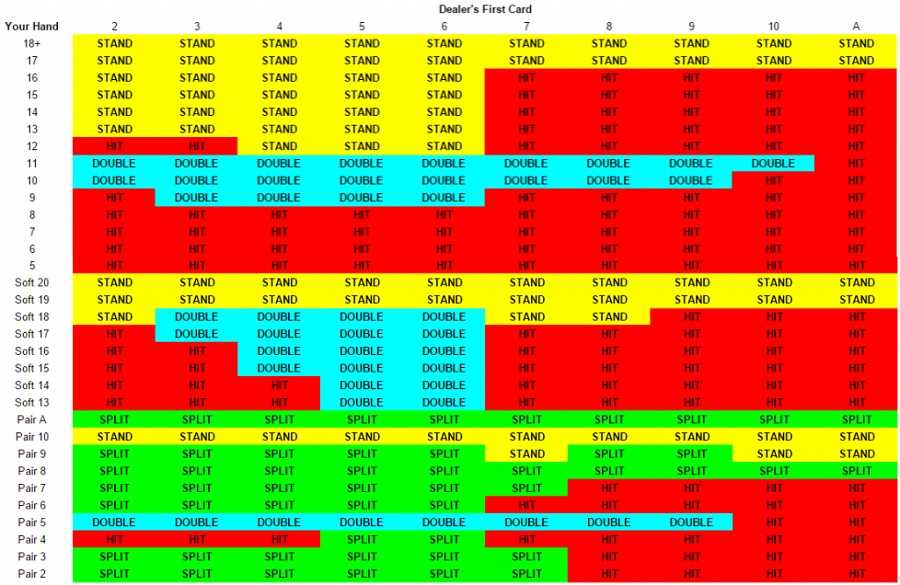 There are a few basic strategies that players can employ to make optimal decisions for every hand. Primarily, they should always be aware of what the dealer's face-up card is.
A good card would be a 7, 8, 9, 10 or an ace. If the dealer has one of these as the up card, the player should keep drawing until they get 17 or over. 4, 5, or 6 values are poor and if the dealer has one of these, the player should stop hitting after they reach 12 or higher. 2 and 3 are fair values. When the dealer has a 2 or a 3, the player should stop when their total is 13 or more.
If the player has a so-called "soft hand" (meaning an ace and another card that reaches a high total when they count that ace as 11), they should attempt to get a total of 18 or higher and keep hitting until they do.
How To Play Blackjack And Win?
Here are a few of the best tips for how to play blackjack and win:
Learn the basic strategies and consistently apply them. In most situations, there is an optimal move to be made. If you understand and execute these moves all the time, you will maximize your chances of winning.
Always assume the face-down card is a 10-card. The odds are high that it will be.
Always double down when your initial cards total 11.
Always split when you have a pair of aces or 8s (you are gambling that you will get a 10-card).
Never split when you have 10-value cards or 5s. Treat a pair of 5s like a 10. There is a good chance you might get another 10 and reach 20.
If you have won 3 or more hands in a row and are on a winning streak, raise your betting amount somewhat to take advantage of the streak. Once you begin to lose again, lower the amount you are betting.
Have a goal for how much you want to win or have a limit for how much you are willing to bet. Once you reach your goal or your limit, leave the game. If you are doing well and keep playing, you risk having your luck turn and walking away with a loss rather than a profit.
Check if the casino has a rewards program for frequent players or high bets. You could earn additional cash by enrolling in these types of programs.
How To Become A Blackjack Dealer?
Most blackjack dealers go to dealer school to learn all the essentials of their trade. Thus, any aspiring dealers should expect that they will need to graduate from one of these schools to get the job. Dealer schools are frequently run directly through casinos.
While schooling can be a prerequisite for a blackjack dealer job, it does not guarantee employment automatically. As with most other jobs, you will need to apply to an open position. If the employers are interested, they may ask you to audition for the role. Once hired, you may need to undergo further training to become familiar with the procedures specific to the casino.
Ideally, you would take another job within the casino first. That provides an opportunity to establish yourself as a valuable employee. If you want to be a blackjack dealer, it would be even better to work adjacent to current dealers as much as possible, such as by working as a pit boss. That way, when a dealer role opens up, you will be well-positioned to be chosen for the job.
---
Frequently Asked Questions
Which Are The Basics Of Blackjack?

How Many Types Of Blackjack Exist?

How To Place Blackjack Bets?

How To Play Blackjack For Real Money?

How To Play Blackjack At A Land Based Casino?

How To Play Blackjack At An Online Casino?

Which Are The Best Blackjack Strategies?

How To Play Blackjack And Win?

How To Become A Blackjack Dealer?
---