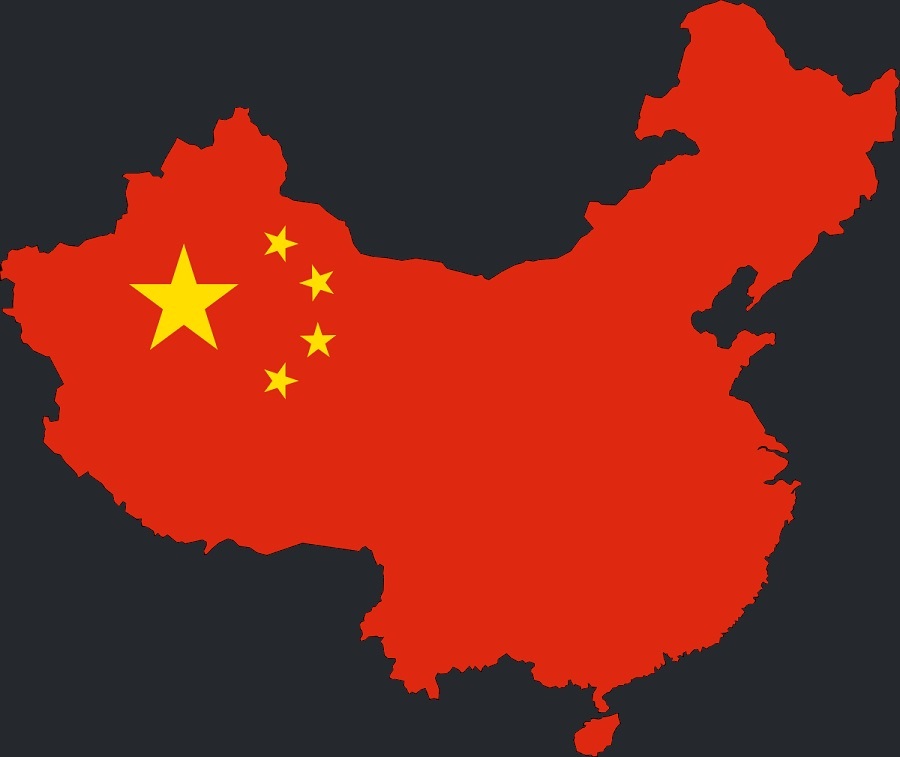 👑 Gambling King's Best Chinese Online Casinos
Gambling In China
Gambling and games of chance enjoyed a long history in China for centuries. Wagering once served as a popular recreational pastime in most provinces. Yet today, Chinese citizens risk serious criminal penalties for participating in gambling on the Chinese mainland. Laws also outlaw online gaming by people residing in China. However, many Chinese visit legal Mandarin-language casinos in the special administrative district of Macau or overseas in Singapore, Australia, South Korea, Vietnam and the Philippines.
Additionally, the government of the PCR conducts two huge lotteries. The Welfare Lottery started in 1987. A few years later in 1994, the Communist Party also added a second lottery: the sports lottery. These state-run lotteries don't qualify as gambling in China.
While finding a legal Chinese casino proves impossible for most residents of the populous nation of the PCR, a Macau casino provides a widely popular alternative. Macau's role as a gambling center somewhat resembles that of Las Vegas in the United States several decades ago. It offers a number of glitzy casino resort hotels. Only people age 18 and older may enter onto a casino floor, but families can enjoy spectacular vacations at these entertainment centers.
Reportedly, in 2007, the gambling revenues from Macau casinos actually surpassed those of the Las Vegas Strip!
Is Gambling Legal In China?
Currently, the government of the People's Republic of China officially forbids all gambling. The Chinese legal system does not classify state-sponsored lotteries as gambling, so participation in lotteries offers a way for Chinese residents to win money.
One important exception to the prohibition on gambling exists: China does allow 41 casinos to operate with government-issued franchises in the special administrative district of Macau. Located just a short distance away from Hong Kong on the Macau Peninsula (and also on the nearby Taipa Island and the Cotai Strip), this locale has become one of the largest gaming centers in the world.
Additionally, gambling also sometimes occurs aboard cruise ships visiting the Chinese mainland. Cruise vessels may conduct casino activities in offshore waters. Sometimes residents of the special administrative district of Hong Kong access this type of gaming venue.
Recently the PCR sought to extend its offshore waterways significantly. Consequently, gaming in a sanctioned venue (like a casino in Macau) likely involves far less ambiguity from a legal standpoint.
How Is Gambling Regulated In China?
The PCR has not established any framework for regulating gambling. Casinos operate legally in Macau because they obtain franchises from the local administration. The PCR periodically takes steps to thwart alleged illicit activities in Macau. Money laundering, the funding of terrorism and triad activities concern regulators.
The authorized casinos in Macau endeavor to maintain a high level of financial transparency. Just as the United States battled organized crime in Las Vegas during the 1970s, today the PCR sometimes "cracks down" on the movement of funds into and out of casinos in Macau. This oversight reportedly involves placing tight restrictions upon gaming accounts from time to time.
Chinese Gambling Currency
Today, Hong Kong Dollars ("HKD") remain the primary currency associated with gambling at authorized Macau based casinos.
The local Macau "pataka" currency remains pegged to the HKD.
Land Based Casinos In China
Today, Macau boasts some 41 casinos. The leading establishments surpass most resort casinos in Las Vegas in size. For example, the Venetian Macao, largest one, offers a 39-story hotel and a 550,000 square foot casino floor. It ranks as the world's seventh largest building!
Galaxy Casino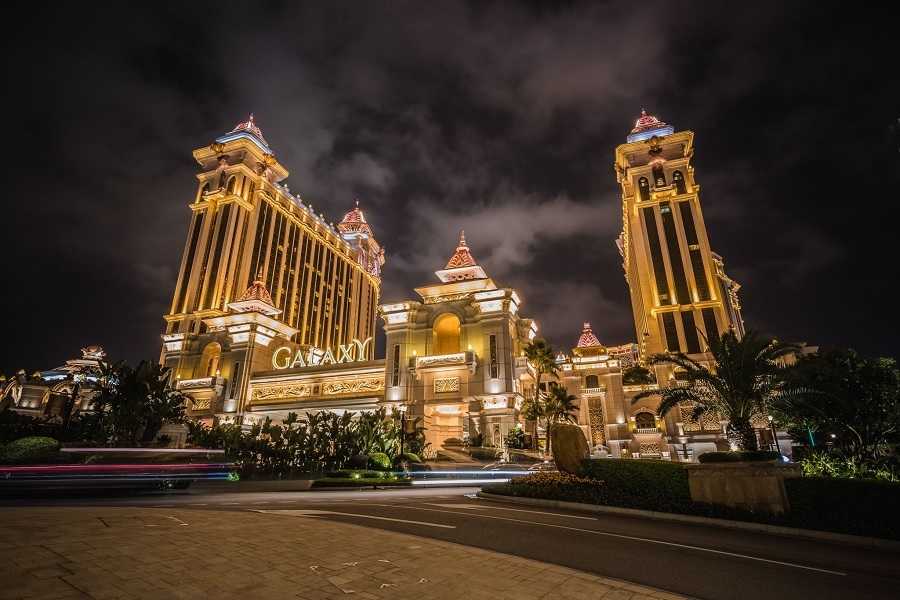 Galaxy casino in Macau offers a spectacular diamond waterfall show. The casino's interior is packed with unimaginable luxury design.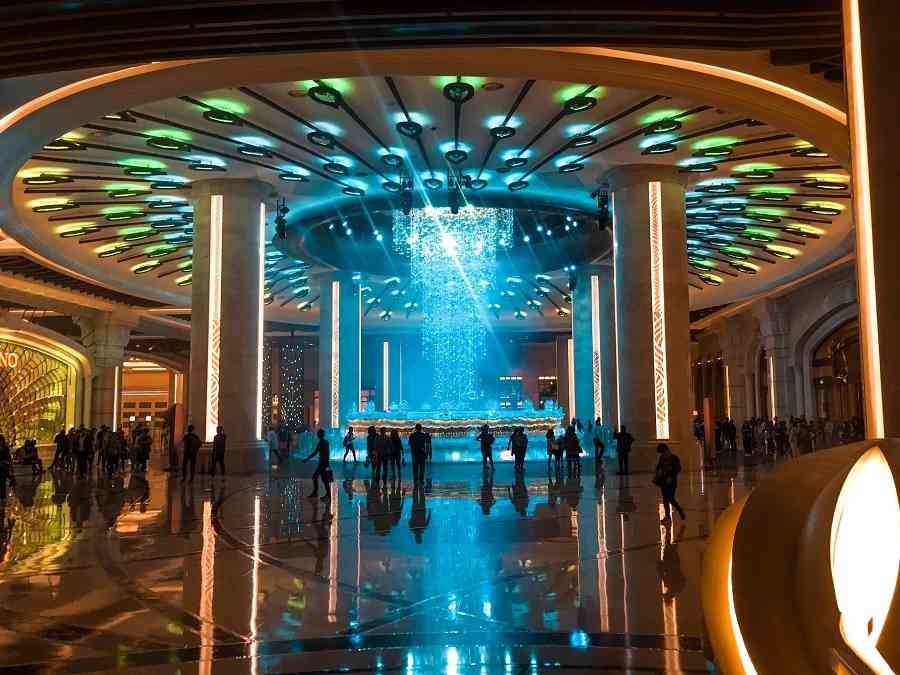 Parisian Casino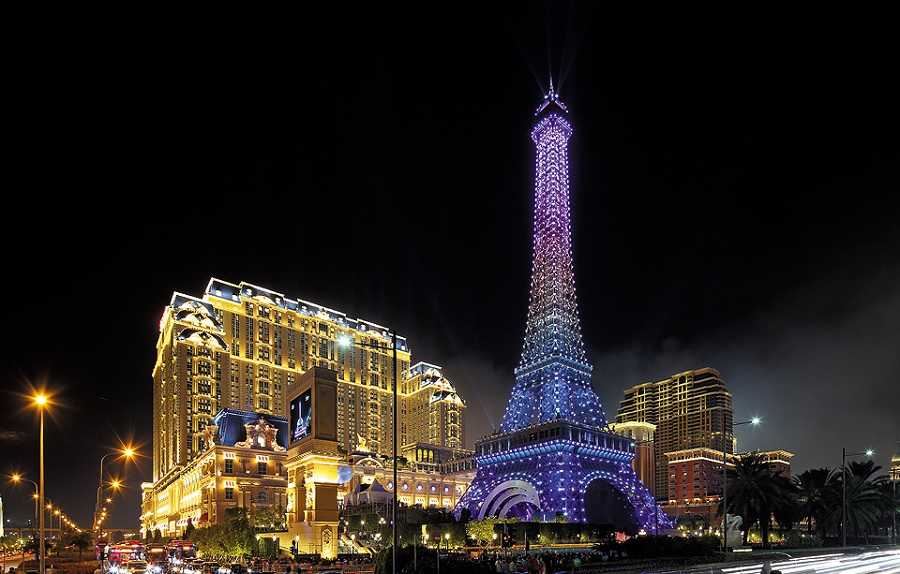 At the Parisian casino you can enjoy an illuminated Eiffel Tower replica.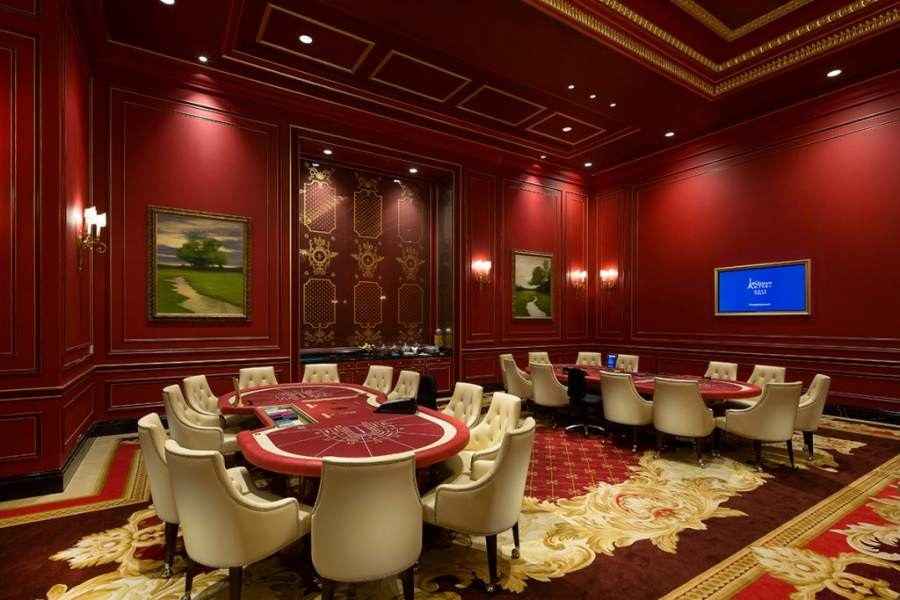 Venetian Casino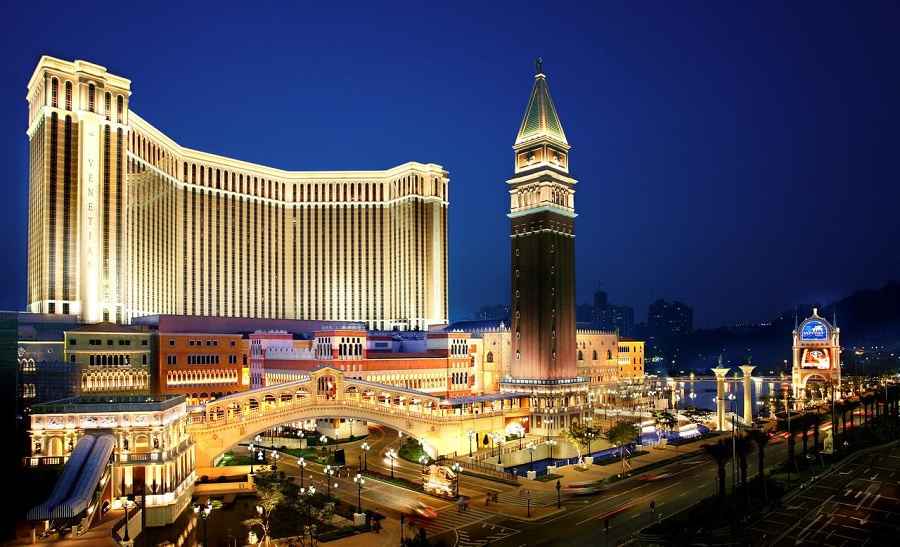 The Venetian casino in Macao supplies rides in an enchanting reproduction of Italian canals.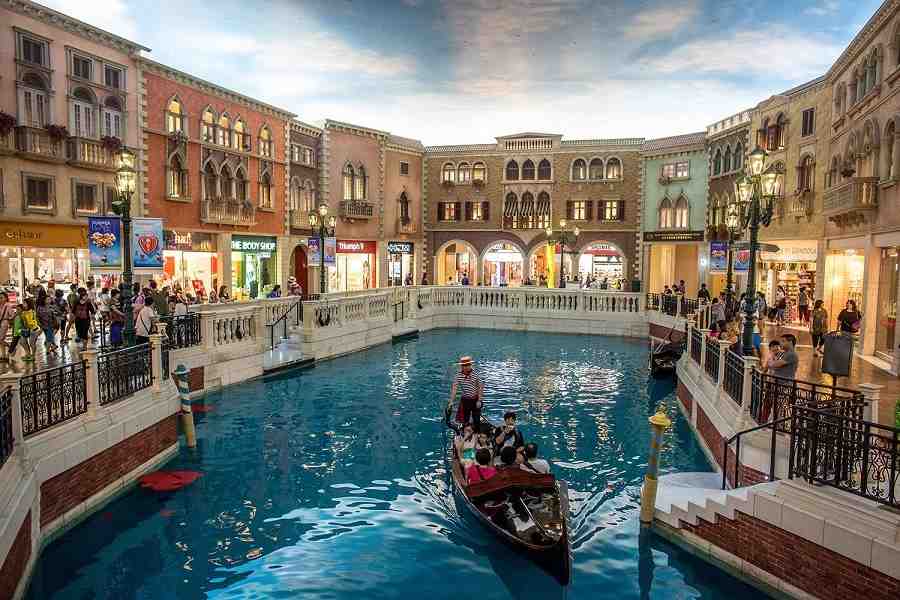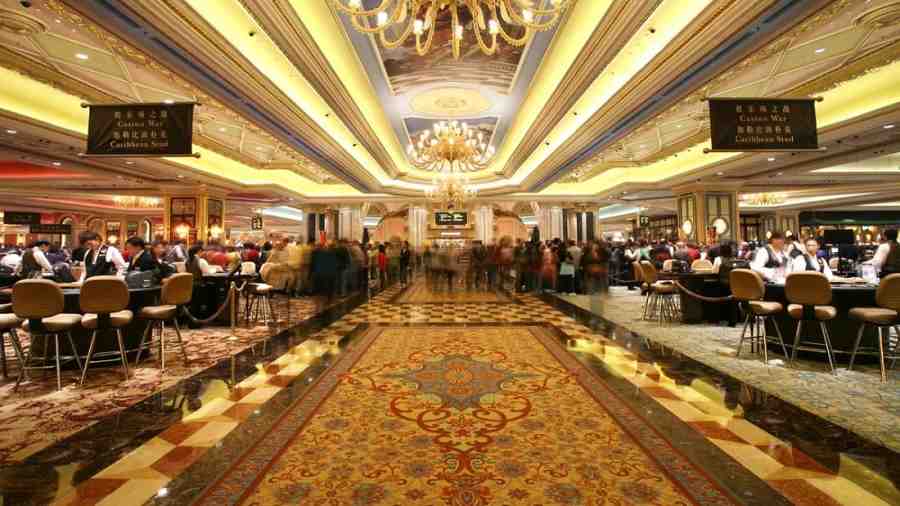 Chinese Online Casinos
Residents of China residing in the special administrative district of Macau and Chinese residing outside China enjoy gambling from home on offshore online casinos. This process proves very easy in places allowing online casino wagering!
Chinese Slang For Gambling
The long tradition of gambling in China has contributed to numerous superstitions surrounding gaming.
Slang expressions at casinos reflect this trend.
For example, reportedly many baccarat players will exclaim "Ding" in Mandarin at the start of the game to invoke good luck.
The number "666" carries sinister connotations in English, but one of extreme good luck in Chinese culture. Consequently, you might notice gamblers placing "liuliuliu" bets in Mandarin casinos.
Popular Chinese Casino Games
Wagering in Macau encompasses both race track and sporting events (mainly horse racing and dog racing), as well as casino games.
The largest casino offers 3400 slot machines and 800 gaming tables. Table games include roulette, blackjack, baccarat, Fan Tan, keno, boule, Sic bo (a game similar to Craps), and Texas Hold'em poker.
Popular Chinese Banking Options
Chinese Deposit Options
Bank transfer;
Debit or credit cards;
Cryptocurrency.
Chinese Withdrawal Options
Bank transfer;
Debit or credit cards;
Cryptocurrency.
Tips How To Find The Best Chinese Casinos
Finding the best casino in the special administrative district of Macau depends mainly upon your goals and preferences.
Casinos here furnish extensive vacation accommodations. It usually makes sense to book your stay as far in advance as possible to avoid possible disappointment, however.
Consider sampling several casinos by playing with a small amount of funds in order to determine which establishment fits your gaming requirements the best.
Land Based Chinese Casinos
No land based casinos operate legally on the Chinese mainland (outside of special administrative districts). Using a bookmaker in mainland China may result in serious criminal sanctions, including imprisonment.
But you can find lots of land based casinos in Macau.
Online Casinos In China
Since the PCR prohibits gambling, it also does not authorize any online casinos. The sole exception occurs with respect to sports gambling. As of September 20, 2020, the popular legalized horse racing track in Macau reportedly began accepting online bets. It remains doubtful at this time if participants may reside on the Chinese mainland while betting, however.
Macau has outlawed proxy betting and it seems possible its limited online horse track betting will continue only for the duration of the coronavirus pandemic.
However, Chinese gamblers prefer to play at offshore online casinos.
---
Frequently Asked Questions
Is Gambling Legal In China?

How Is Gambling Regulated In China?

Which Is The Chinese Gambling Currency?

Which Are The Most Popular Land Based Casinos In China?

Which Are The Chinese Slang For Gambling?

Which Are The Most Popular Chinese Casino Games?

Which Are The Most Popular Chinese Deposit Options?

Which Are The Most Popular Chinese Withdrawal Options?

How To Find The Best Online Casinos In China?
---